Three-month-old killed in California shooting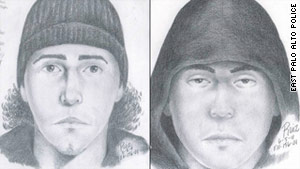 Police are looking for two unidentified men wearing dark clothing at the time of the fatal shooting.
STORY HIGHLIGHTS
Triple-shooting left mother and father seriously injured
Shots were fired by two unidentified men in dark clothing
Another child escaped shooting without injuries
(CNN) -- A 3-month-old boy was killed Sunday during a triple-shooting in California, according to the East Palo Alto police department.
The incident left the child's mother and father wounded with injuries that are serious but not life-threatening, police said in a statement.
The victims had been attending a baby shower and left shortly after midnight Sunday. As they were leaving, two unidentified men in dark clothing fired multiple shots into the vehicle, wounding the adults and killing the infant.
Another son, who is 3, was uninjured.
Police have not released the names of the victims.