Capital charges refiled against alleged 9/11 conspirators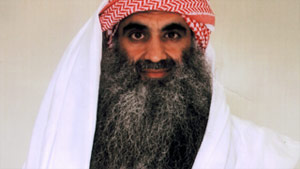 Charges against Khalid Sheikh Mohammed and four other alleged 9/11 co-conspirators are being refiled.
STORY HIGHLIGHTS
NEW: The Pentagon announces the refiling of charges
The case is returning to a military tribunal from U.S. federal courts
The move is procedural to allow prosecution before a tribunal
Washington (CNN) -- The Department of Defense announced Tuesday that capital charges have been refiled against Khalid Sheikh Mohammed and four other alleged co-conspirators in the September 11, 2001, conspiracy to allow prosecution before a military commission at the Guantanamo Bay, Cuba, naval base.
The move comes after the Obama administration dropped plans to prosecute the suspects in federal court in New York.
Besides Mohammed, the other suspects accused of participating in the 9/11 plot are Walid bin Attash, Ramzi bin al-Shibh, Ali Abdul Aziz Ali and Mustafa Ahmed al-Hawsawi. All five are at Guantanamo.
A Pentagon statement said the charges "allege that the five accused were responsible for the planning and execution" of the 9/11 attacks, resulting in the deaths of nearly 3,000 people.

No civilian trials for 9/11 suspects

Uncertainty in 9/11 trial
Charges against all five accused include conspiracy, murder in violation of the law of war, attacking civilians, attacking civilian objects, intentionally causing serious bodily injury, destruction of property in violation of the law of war, hijacking aircraft and terrorism, the statement said. The filing of capital charges means the defendants could face death sentences if convicted.
The final decision about whether the death penalty can be pursued is in the hands of retired Vice Adm. Bruce McDonald. In military terminology he is the convening authority of the military commissions, the equivalent of a civilian criminal court.
The last military execution was in 1961, involving a U.S. Army private who had been convicted of rape and attempted murder of an Austrian girl.
Mohammed was first charged in May 2008 before a military commission in Guantanamo, but the charges were suspended in early 2009 when the Obama administration took over and sought a fresh review of all detainees at the overseas prison. Later that year, Attorney General Eric Holder announced Mohammed and several other key terror suspects would face prosecution in the military justice system.
The Obama administration had considered transferring some terror suspects to the United States for prosecution in either special military or civilian courts. But after widespread opposition across the political platform, the president announced earlier this year all prosecutions would be in military courts in Guantanamo.
Obama also had pledged to close the Guantanamo Bay detention facility within a year of becoming president. However, it remains open due to legal complexities involving the status of some detainees and congressional opposition to holding trials for high-profile suspects in U.S. criminal courts.
CNN's Bill Mears contributed to this story.
FOLLOW THIS TOPIC