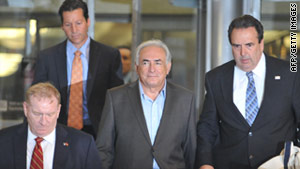 Former IMF head Dominique Strauss-Kahn leaves a New York building under guard on Wednesday.
STORY HIGHLIGHTS
NEW: The district attorney's office brings in two seasoned prosecutors to try the case
An assistant DA says she agrees with the need to safeguard information from leaks
But she says she is "troubled" by the defense attorneys' claims
The Sofitel hotel is giving its maids the option of wearing trousers
New York (CNN) -- Attorneys for the embattled former chief of the International Monetary Fund delivered a letter to the judge presiding over his sexual assault case Thursday, criticizing the New York Police Department for "feeding the media frenzy" and petitioning the court to stop the leaks about Dominique Strauss-Kahn.
"Our client's right to a fair trial is being compromised by the public disclosure of prejudicial material even before these materials have been disclosed to counsel," they said in the letter. They pointed to leaked forensic evidence and reporting about the progression of events in a Sofitel hotel suite where Strauss-Kahn is accused of attempting to rape a hotel maid.
The attorneys said they could, if they chose to do so in response, "release substantial information that in our view would seriously undermine the quality of this prosecution and also gravely undermine the credibility of the complainant in this case."
It is not clear what additional information the letter is referring to or whether it would indeed undermine the prosecutor's case against the ex-IMF chief.
The attorney for the woman making the accusations, a single mother originally from the West African country of Guinea, said he has "spent hours talking to her" and is convinced that "she's telling the truth."
"I know who she is, and I know the story she's telling is true," Jeffrey Shapiro said.
Assistant District Attorney Joan Illuzzi-Orbon said she agrees with the need to safeguard information from leaks but is "troubled that you chose to inject into the public record your claim that you possess information that might negatively impact the case and 'gravely' undermine the credibility of the victim."
"If you really do possess the kind of information you suggest you do, we trust that you will forward it immediately to the District Attorney's Office," said Illuzzi-Orbon. She and Ann Prunty were brought in by the district attorney's office as seasoned prosecutors to try the case, according to a government source with knowledge of the trial.
Strauss-Kahn's attorneys have also requested "copies of all the scientific reports that have been completed and have already been leaked to various media outlets," as well as "all police reports and formal statements made by the complaining witness whose testimony has already been referenced in the media."
The move, if accepted, could provide his attorneys with quicker access to evidence that would normally be produced later in the court proceedings.
Meanwhile, the luxury hotel in Manhattan where the ex-IMF chief is suspected of sexually assaulting a maid is providing its housekeeping employees with alternative uniforms in response to the alleged incident.
Employees will be given the choice of wearing the new uniforms, which include trousers, or staying with the current uniforms, which include skirts and expose portions of the lower leg, according to New York Hotel and Motel Trades Council spokesman Josh Gold, whose organization is the union for hotel workers in New York City. Gold said the union and hotel workers had demanded the option.
"Management agreed with union representatives to offer hotel employees a second uniform choice," Gold said.
A day earlier, the accused, Strauss-Kahn, got a new place to stay under house arrest: a luxury townhouse in New York's tony Tribeca neighborhood, according to a source with knowledge of his whereabouts.
The judge presiding over his sexual assault case accepted a new location Wednesday, moving Strauss-Kahn from his temporary apartment in Lower Manhattan.
He is under court-ordered watch, part of the terms of his $6 million bail agreement, and must pay for the 24-hour armed guard posted at his door and for electronic surveillance.
The swank Tribeca townhouse was listed for purchase at just under $14 million this year, according to a real estate website.
A townhome listing says it has 6,804 square feet and was recently renovated by architect/designer Leopoldo Rosati.
Built in 1915, the three-story pad is said to have a state-of-the-art in-home theater, gym, steam bath and bar.
"My phone's been ringing nonstop," said Robert Dvorin, senior vice president for Town Residential, a New York residential real estate brokerage.
He refused comment on the terms of the deal but pointed to websites showing that at one point, the asking rental price for the property was $60,000 per month. He wouldn't say what Strauss-Kahn is actually paying.
Strauss-Kahn, who was indicted on seven charges, can leave the building only for court appearances. If he wants to leave for any other reason, including religious services, he must provide six hours' notice to prosecutors.
He faces two counts of criminal sexual acts, two counts of sexual abuse and one count each of attempt to commit rape, unlawful imprisonment and forcible touching.
If he is convicted, the former IMF chief, who was once a French presidential front-runner, would face up to 25 years in prison.
CNN's Deb Feyerick and Ross Levitt contributed to this report.
FOLLOW THIS TOPIC