'You Light Up My Life' composer kills self, police say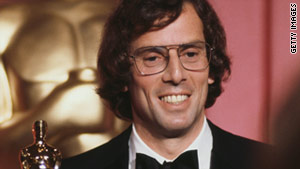 In 1978, Joseph Brooks accepts an Academy Award for best original song for "You Light Up My Life."
STORY HIGHLIGHTS
Joseph Brooks faced rape and sex assault charges, police say
A friend found him dead in his New York home Sunday
The songwriter left a suicide note, police say
"You Light Up My Life" was the top hit of 1977
(CNN) -- The man who composed the pop hit "You Light Up My Life" ended his own life Sunday, New York police said.
Joseph Brooks, 73, was facing charges on 11 alleged rapes and sex assaults, New York Police Deputy Commissioner Paul Browne said.
The Oscar-winning songwriter was found dead on a couch in his Manhattan home by a friend with whom he was supposed to have lunch at 12:30 p.m. Sunday, Browne said.
A plastic dry cleaning bag and a towel were wrapped around his head, with a tube connected to a helium tank attached, he said. A suicide note was found nearby, he said.
Brooks' son, Nicholas Brooks, was charged in January with the murder of his ex-girlfriend, according to the Manhattan District Attorney's office.
The bruised body of swimsuit designer Sylvie Cachay, 33, was found at a chic New York hotel last December, police said.
The song, which was written as the title track for a movie, won an Oscar, a Golden Globe and a Grammy for Brooks.
Debby Boone's recording of "You Light Up My Life" was the number one song of 1977 on the Billboard pop chart.
CNN's Susan Candiotti contributed to this report.
FOLLOW THIS TOPIC