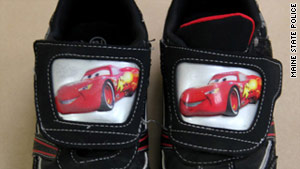 Police released a photo of sneakers from the small boy's body that was found in Maine on Saturday.
STORY HIGHLIGHTS
Julianne McCrery is arraigned on 2nd-degree murder charges in New Hampshire
Earlier Thursday, she plead not guilty in Massachusetts to being a fugitive
Her lawyer says police told him McCrery "confessed in detail" to killing her son
The 6-year-old boy's body was found Saturday near the Maine-New Hampshire border
Read more about this story from CNN affiliate WHDH.
(CNN) -- The emotional mother of a dead 6-year-old boy repeatedly asserted that she "wanted to join him in heaven," her lawyer said Thursday, hours before she was arraigned in a New Hampshire court for the second-degree murder of her child.
The body of Camden Hughes was found under a blanket Saturday alongside a remote road in South Berwick, Maine, near the New Hampshire border. Three days later, the child's mother -- Julianne McCrery -- was taken into custody at a highway rest stop about 65 miles south in Chelmsford, Massachusetts.
On Thursday, the 42-year-old Texas woman first appeared in Concord District Court in Massachusetts, where she pleaded not guilty to a charge of being a fugitive of justice.
She was then transferred to Portsmouth District Court in New Hampshire -- the state in which, authorities say, the crime occurred -- and was formally charged with two second-degree murder charges. The first charge claims that McCrery "knowingly caused the death of Camden Hughes by asphyxiation," while the second charge accused her of recklessly causing her son's death in a way that showed "extreme indifference to the value of human life."

Woman in custody in Maine boy case
Dressed in prison blue scrubs, McCrery bowed her head and fought back tears as the charges were read aloud Thursday afternoon in New Hampshire. She did not enter a plea on the charges, with her next court appearance -- a probable cause hearing -- scheduled for May 26.
George Murphy, her court-appointed attorney, told reporters he feared McCrery was "suicidal" after their initial 15-minute meeting on Wednesday.
"She said she loved her son and wanted to be with him eternally -- she said it over and over again," Murphy said Thursday morning in Massachusetts, where he represented McCrery in court. "I'm ... concerned with her taking her life right now."
The lawyer said that at no point during their conversation did McCrery tell him that she had killed her son. But Murphy did acknowledge that police had told him she'd "confessed ... in detail."
Saying he was not a psychiatrist, Murphy refused to speculate on his client's mental state. But he suggested it will likely be considered as the case unfolds.
"Is (it) a mental issue? Why would somebody kill their kid? That's the first thing you want to look at," Murphy said.
When police found his body, Camden Hughes was waring a gray camouflage hooded sweatshirt, tan pants and a navy blue T-shirt with "Aviator Series" printed on the front. Maine State Police Lt. Brian McDonough said the boy -- who had blue eyes, weighed 45 pounds and stood 3 feet, 8 inches tall -- appeared to have been well cared for before his death.
Police then asked for the public's help indentifying the boy and the person responsible for his death. McDonough, citing a witness report, said that a truck seen in the area where the body was found had "some type of naval insignia embossed in or around the license plate."
On Wednesday, Massachusetts State Police spokesman David Procopio said that the woman later identified as McCrery was found in a blue Toyota Tacoma that "matches the description" of the vehicle being sought.
"In a short period, a 12-hour period, we were able to go from a case that was relatively unsolved to where we are today," said Middlesex County (Massachusetts) Assistant District Attorney Michael Fabbri on Thursday.
New Hampshire Senior Assistant Attorney General Susan Morrell said that Maine state police were "overwhelmed by (the public's) tips and compassion," saying one of those tips led directly to McCrery.
Morrell did not explain how authorities have concluded that 6-year-old Camden was killed in New Hampshire, nor did they detail how he died beyond labeling it as asphyxiation. It is also not clear why McCrery came from Texas to New England.
"The investigation clearly is in its very early stages," Morrell said, "though we have sufficient facts to make an arrest and pursue the prosecution of second-degree murder against Ms. McCrery."
Christian von Atzigen, who said he'd known McCrery for 15 years and considered her a "very close friend," told CNN that she was a hard worker who "had her ups and downs, (but) always kept going."
The Texas resident said that he had a hard time believing that the woman who babysat his children had kill her own son.
"This is not the Julie I know," von Atzigen said from Dallas. "I don't understand what happened."
CNN's Anna Gonzalez contributed to this report.
FOLLOW THIS TOPIC