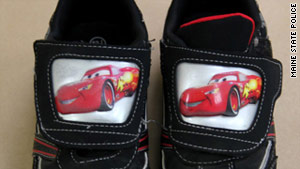 Police released a photo on Tuesday of sneakers from a small boy's body that was found in Maine on Saturday.
STORY HIGHLIGHTS
NEW: Maine State Police believe they know boy's identity
Woman taken to hospital for medical evaluation
Boy's body found Saturday near Maine-New Hampshire border
(CNN) -- A woman was being interviewed Wednesday by authorities from three states in the death of a young boy found in Maine over the weekend, authorities said.
The woman was picked up Wednesday morning at a highway rest stop in Chelmsford, Massachusetts, said David Procopio, director of communications for Massachusetts State Police. Troopers arrived after receiving a tip from a citizen who had followed news coverage, he said.
The woman was being held at police headquarters in Concord, but was taken later to a hospital for a medical evaluation, Procopio said. "She remains in custody, but is not yet facing charges."
Authorities could not confirm to CNN the identities of the woman, boy and their possible relationship.
A blue Toyota Tacoma that "matches the description" of a vehicle being sought also was in police possession, Procopio said.
Procopio told reporters that representatives from Maine and the New Hampshire attorney general's office were in Concord.
"A development has occurred that put the case under the New Hampshire attorney general," he said. New Hampshire authorities are expected to make a statement Thursday.
CNN could not reach someone in the office late Wednesday afternoon.
Procopio declined to identify the woman or the boy, who was found under a blanket alongside a remote road in South Berwick, Maine, near the New Hampshire border on Saturday. Police have not released his cause of death, but have said the boy's death is suspicious.
"Maine State Police say they believe they know the identity of the young boy found in South Berwick Saturday afternoon," the department said Wednesday. "Positive identification will be made by the Maine State Medical Examiner's Office. The identification of the child will be released after the family of the boy has been notified."
Maine State Police said Tuesday they are exploring a possible military connection in the case.
A truck seen in the area where the body was discovered had "some type of naval insignia embossed in or around the license plate," said police Lt. Brian McDonough, citing a witness report.
"It's more intuition probably than anything, but we're really starting to wonder if the individual involved with this truck is a member of the military," he said.
Procopio confirmed U.S. Navy investigators had been called in.
Maine State Police referred questions to the state attorney general's office. Spokeswoman Brenda Kielty declined to comment on particulars of the investigation.
Police published a photograph of the boy's shoes Tuesday, hoping it might lead to new tips. The boy wore black sneakers with pictures of "Lightning McQueen," a character from the film "Cars," on top.
Police previously had made public a computer-generated photo of the child, describing him as 3 feet, 8 inches tall and weighing 45 pounds. He had blue eyes and short, dirty blond hair.
When police found his body, the boy was wearing a gray camouflage hooded sweatshirt, tan pants and a navy blue T-shirt with "Aviator Series" printed on the front. McDonough said the boy appeared to have been well cared for before his death.
Authorities have so far received more than 200 tips in the case, from states as far away as Alabama, Florida and California.
McDonough said the crime lab is doing an analysis of the boy's DNA so police can compare it to those in a missing person's database.
CNN's Phil Gast contributed to this report.
FOLLOW THIS TOPIC