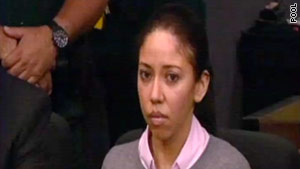 Dalia Dippolito's attorney argued that her sense of reality was "blurred" in her quest to get on television.
STORY HIGHLIGHTS
NEW: Dalia Dippolito shows no emotion upon being convicted of solicitation of murder
NEW: The six-member jury asks to see 2 surveillance videos before issuing its verdict
Videos show Dippolito plotting with a hit man, actually an undercover officer
The defense said it was all a ploy by Dalia and her husband to get on reality TV
(CNN) -- A Florida jury on Friday convicted a woman of hiring a hit man to kill her new husband, rejecting the defense's contention that she and her spouse concocted the murder-for-hire plot in order to get on reality TV.
The six-person jury -- one of them the wife of a current local police chief -- handed down its guilty verdict at the Palm Beach County courthouse after less than three hours of deliberation. Dalia Dippolito showed no visible reaction when it was read.
With the conviction on solicitation to commit first-degree murder, she could face up to 30 years in prison. The sentence is expected to be handed down in about 30 days.
Over the eight-day trial, Palm Beach County prosecutors contended that the 28-year-old woman told her lover -- Mohammed Shihahdeh, who tipped off police -- that she wanted to hire someone to kill her husband of six months. They showed a secretly recorded video in which Dippolito sorts out logistics, payment plans and other details with her would-be hit man, who was actually an undercover officer with the Boynton Beach Police Department.
Prosecutors contended that Dippolito wanted her husband dead so she could have his considerable wealth for herself, including their townhouse valued at more than $200,000.
The defense countered that the plot was not real but rather an orchestrated attempt by her and her husband to break into the world of reality television. The reality show "Cops" was following Boynton Beach police at the time.
The husband, Michael Dippolito, denied on the stand that he knew about or in any way acted on such a plan. He also fought back after his wife's lawyers spent parts of three days questioning his credibility. The husband -- who had spent two years in prison and was put on probation for 28 years after pleading guilty to fraud charges in 2003, according to the Florida Department of Corrections -- admitted he may have understated his wealth to his probation officers, but said he was the victim in the plot.
Defense attorney Michael Salnick contended during the trial that Dalia Dippolito's sense of reality was "blurred" and that she was motivated mostly by a desire to get on television.
"Reality TV often glorifies bad behavior, appealing to the gullibility of people," Salnick said last week. "The contract killing of Michael Dippolito was never real. It was a stunt, a hoax, a plan that Michael Dippolito -- whether he admits it or not -- (hoped) to capture (the attention) of someone on reality TV."
In the undercover video, recorded August 3, 2009, in a CVS parking lot, Dalia Dippolito appears to show no hesitation in wanting her husband killed, once payment arrangements and other issues are hashed out.
"There's no changing. I'm determined already," she says on the video, which was played during the trial and had been released by Boynton Beach police in November 2009. "I'm positive -- 5,000% sure."
In the video, Dippolito said she'd pay some money up front and insisted she's "good for" the remainder, once the job was complete.
"That's the kind of person I am," she said.
Two days later, police set up a fake crime scene at the Dippolito's home, including staged roadblocks and crime scene tape. The jury saw another video that police took of Dalia Dippolito crying and wailing after she arrived home and was told her husband had been killed.
Authorities then took the woman to the police station, telling her they needed to interview her about possible suspects in her husband's murder. There, cameras were rolling once again as investigators told her the entire thing had been part of an undercover investigation -- even reintroducing her to the officer who had played the role of the hit man.
During their deliberations, the jury requested to review the video of Dippolito's meeting with the man posing as a hit man. They also asked to see surveillance video of Dippolito meeting with her lover, Shihahdeh, who by then was a confidential informant for police.
The defense tried to link the television show, "Cops," which has aired the past 21 years on Fox, with the murder-for-hire plot, accusing Boynton Beach authorities of playing for the cameras at the expense of their jobs as law enforcement officers.
But the investigators involved in the case testified that the show did not, in any way, affect their probe.
FOLLOW THIS TOPIC