Delaware pediatrician accused of raping patients waives right to jury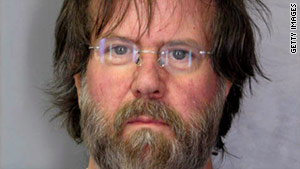 Video and digital evidence is said to be key in the case against Dr. Earl Bradley.
STORY HIGHLIGHTS
Dr. Earl Bradley says in a Delaware court that he doesn't want a jury trial
His trial, nonetheless, is scheduled to begin on June 1
He faces 529 counts of rape and sexual exploitation, among other charges
His lawyer has said "this case is going to come down to his mental health"
(CNN) -- A Delaware pediatrician facing 529 felony counts of rape and other sexual offenses involving his young patients waived his right to a jury trial Monday, a court official said.
Dr. Earl Bradley told Superior Court Judge William Carpenter Jr. on Monday morning that he did not want his fate decided by a jury of his peers, said Colleen Redmond, a Delaware courts official. He made the announcement at a pretrial hearing at a New Castle County Courthouse in Wilmington.
His trial, nonetheless, is set to begin June 1, according to Delaware Justice Department spokesman Jason P. Miller. Carpenter will be the presiding judge.
The pediatrician, who had a practice in Lewes, Delaware, was arrested in December 2009 on charges that include rape, sexual exploitation of a child, endangering child welfare and assault.
In March 2010, Bradley, 56, pleaded not guilty to 471 felony counts after he was accused of victimizing 103 children: 102 girls and one boy.
The next month, the Delaware doctor was indicted on 58 additional counts of rape and other sexual offenses. These related to 24 girls he had as patients between 1999 and 2009.
Delaware Attorney General Beau Biden has said the charges are based on "video and digital evidence" seized from Bradley's home and medical practice around the time of his arrest.
In addition to Delaware, Bradley has medical licenses in Pennsylvania, New Jersey and Florida. Delaware authorities have said they have contacted officials in those states.
In a February 2010 interview with CNN, Bradley's attorney said that his client's defense would largely center on his mental condition at the time the crimes are alleged to have occurred.
"Most of the evidence in this case comes from videotapes. It's kind of hard to argue with videotapes," Eugene Maurer Jr. said. "The issue, in this case, is going to come down to his mental health at the time."
CNN's Devon Sayers contributed to this report.
FOLLOW THIS TOPIC