'Bed Intruder' Internet star appears in Alabama court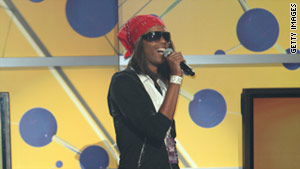 Viral video star Antoine Dodson was arrested Saturday in Alabama on drug charges.
STORY HIGHLIGHTS
Dodson posts a flurry of tweets dismissing the proceedings
He was pulled over for speeding and arrested
His Internet stardom came after his TV news interview about an intruder
Dodson: "I never got in trouble for nothing in my life"
(CNN) -- Antoine "Bed Intruder" Dodson, the man whose TV news rant against a would-be rapist became a viral music video and his ticket to celebrity, appeared in an Alabama city court Monday to face five misdemeanor charges, including marijuana possession.
Later, he posted a flurry of defiant tweets dismissing the proceedings.
"Court was [expletive deleted]," said one.
"Damn I didn't kill anyone did I??? Its Just weed!!! You know that stuff that grows like grass?? Yeah that! !!" said another.
Dodson was pulled over for speeding and subsequently arrested Saturday night in Huntsville. Police released him a few hours later.
The 20-year-old catapulted to fame after his rant about a break-in at his sister's apartment was produced into a music video that went viral.
The hit, "Bed Intruder," spawned multiple covers including an a cappella version performed by a university singing group.
He quickly capitalized on the success with numerous television appearances, including one at the 2010 BET Hip-Hop Awards in October where he performed "Bed Intruder."
"I don't deserve to be here. I never got in trouble for nothing in my life," Dodson told reporters as he left the courtroom Monday. "I got pulled in over in my Benz, Mercedes E-Class."