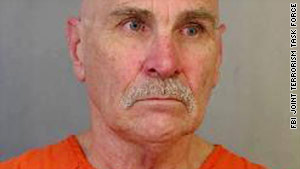 Earl Albert Moore, 65, is the subject of a nationwide manhunt in the attempted bombing of a Colorado mall.
STORY HIGHLIGHTS
Suspect's prison term had been reduced
Destructive device sent to FBI crime lab
Suspect previously arrested on theft, burglary, drug charges, records search shows
Authorities release more photos of a man they consider suspect
(CNN) -- The suspect believed to have placed a pipe bomb in a Colorado mall was released from a federal prison -- where he served time for a bank robbery -- exactly one week before the botched bombing, a federal law enforcement source told CNN Sunday.
The FBI Denver Joint Terrorism Task Force identified the subject of a nationwide manhunt as Earl Albert Moore, 65.
Authorities, who released more photos of the suspect, said he has an extensive criminal background and multiple recognizable tattoos. They also said he should be considered armed and dangerous.
Moore was released April 13 from the Federal Correctional Insitution in Estill, South Carolina, according to Edmond Ross of the federal Bureau of Prisons.
A pipe bomb device was found after a fire broke out Wednesday in a back hallway at Southwest Plaza Mall in Littleton. The shopping center was evacuated.
The photos released Sunday show a man identified as Moore with a rose tattoo on his upper right arm, a knife or dagger on his left arm and a bearded Nordic warrior on his left forearm. He was last seen wearing glasses, the task force said in a statement.
A security camera shows the man sought by authorities in the mall just minutes before a security guard extinguished the fire. Investigators say that fire may have been part of an attempt to detonate explosives.
The device has been sent to the FBI crime lab in Quantico, Virginia, for a forensic examination.
According to a search of federal court records, Moore was sentenced to 18 years in prison for a March 2005 robbery of Whitesville State Bank in Crab Orchard, West Virginia. The robbery netted $2,546. According to the indictment, Moore used a dangerous weapon to assault and endanger bank employees.
Prosecutors asked later for Moore's sentence be reduced to reflect "defendant's subsequent substantial assistance in investigating or prosecuting another person."
In 2008, Moore's term was cut to 84 months (seven years) in prison with five years of supervised probation. Such offenders typically serve at least 85% of their sentence if they are on good behavior.
Moore is described as a white male who is bald, has a gray mustache and blue eyes. The tattooed suspect weighs between 200 and 225 pounds and is between 6 feet and 6 feet 2 inches tall, the FBI said. The man in mall surveillance video had on glasses and wore a dark cap with a light-colored logo on the front, a gray and white horizontally striped shirt, a dark jacket, jeans and dark-colored shoes.
Possible aliases include Earl Buchanan, Morelli Buchanon, John Lindzy, Donald Morelli and Gary Steele, authorities said.
According to a public records search through the Colorado Bureau of Investigation, Moore since 1984 has been arrested on charges of dangerous drug possession, larceny, theft, possession of burglary tools and failure to appear.
Authorities are asking for the public's help as they investigate the incident on the 12th anniversary of the shooting at nearby Columbine High School. Twelve students and a teacher were killed at the hands of two other students, who then killed themselves.
No evidence exists so far of a link to the Columbine shootings, Jefferson County Sheriff Ted Mink said.
Mall store employee Marshall Wood told CNN Friday that he called security Wednesday after seeing the fire in a panel in the hallway behind the store. Wood said he noticed one or two small green propane canisters near the blaze.
Law enforcement officials Thursday released surveillance camera images of the man carrying a white plastic bag at the mall around noon Wednesday. He was in a part of the mall that the public does not usually access. On Friday, they released images of the man on a bus leaving the mall the night before the bombing attempt.
A search turned up explosives, said Jacki Kelley of the Jefferson County Sheriff's office.
"The propane tanks and the pipe bomb were literally together," she told reporters.
The public is urged to call 911 if they know the whereabouts of Moore or the Jeffco Tip Line at 303-271-5615 to provide any information.
CNN's Jim Spellman contributed to this report.
FOLLOW THIS TOPIC