Judge: Jury can consider stain in trunk of Casey Anthony's car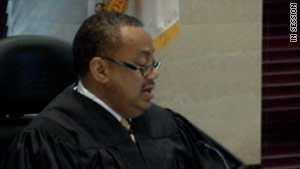 Judge Belvin Perry Jr. will allow evidence to which the defense objected in the upcoming Casey Anthony murder trial.
STORY HIGHLIGHTS
A Florida judge rules Thursday on a key piece of evidence in the Casey Anthony trial
The defense, he says, didn't meet the "burden ... of proof" about a stain in her car
Prosecutors allege that Anthony stashed her dead 2-year-old daughter in the trunk
Anthony's trial for capital murder, among other charges, is set to start next month
(CNN) -- A Florida judge ruled Thursday that the jury in the upcoming trial of Casey Anthony can consider a stain found in the trunk of the woman's car -- where, prosecutors allege, she stashed her dead 2-year-old daughter.
Orange County Superior Court Chief Judge Belvin Perry Jr. denied a motion from Anthony's defense attorney that the evidence was irrelevant. This means that it can be part of next month's trial as long as prosecutors establish a proper foundation.
"The defendant ... failed to meet her burden of proof," the judge wrote in an order issued Thursday.
Anthony, 25, faces a capital murder charge in the death of her young daughter, Caylee, plus six other charges including aggravated child abuse, aggravated manslaughter of a child and misleading law enforcement. The girl was reported missing in July 2008, about a month after she was last seen. It wasn't until five months later that investigators found her body.
Since then, Anthony's story has generated an intense media spotlight -- prompting the court's decision to move her jury selection, planned for next month, to another location because of concerns about getting an impartial jury in Orange County. The jurors will be transported to Orange County for the trial.
The question of whether evidence from the trunk of Anthony's Pontiac Sunfire should be considered at the trial had been one of many contentious topics that have been addressed in recent months.
Last December, in a motion, lead defense attorney Jose Baez said it was an "imaginary stain, silhouette or fantasy image."
He contended in a hearing in March that having jurors look at the stain might have a "prejudicial effect," saying it could have been caused by a wet bag of garbage or gasoline cans taken out of the trunk.
"There is absolutely no proof, whatsoever, that is a biological stain," Baez said. "That stain was serologically tested and also tested for DNA. Both came back negative."
But Jeff Ashton, an assistant state attorney for Orange and Osceola counties, said he believed "the act of decomposition destroys DNA" -- so there would be no DNA evidence, regardless.
"(Tests) revealed volatile fatty acids in the trunk consistent with human decomposition," the prosecutor said. He added that an expert claimed that "the relevant amounts of what was present was consistent with decomposition."
Among the decisions still looming, Judge Perry must determine in the upcoming days whether prosecutors can introduce scientific evidence regarding the presence of "decompositional order" in connection with the trunk of Anthony's car. Defense attorneys have called this "junk evidence."
InSession's Nancy Leung contributed to this report.
FOLLOW THIS TOPIC