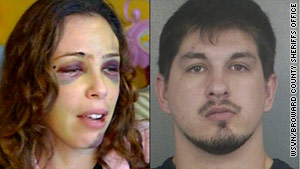 Witnesses say Catherine Scott-Gonzalez was attacked by her husband, Paul Gonzalez, in judge's chambers.
STORY HIGHLIGHTS
A Florida woman is attacked by her estranged husband
The attack took place in front of witnesses -- including the judge hearing their divorce case
It occurred in the courthouse -- specifically, in the judge's chambers
Woman is recovering from injuries; her estranged husband is jailed on $1 million bond
Plantation, Florida (CNN) -- Being attacked in the courthouse was the last thing Catherine Scott-Gonzalez expected when she showed up for the final hearing in her divorce case.
"I just can't believe that it happened -- there are just no words for it," Scott-Gonzalez said Tuesday, as she continued to recover from a broken nose and a fractured jaw after being beaten by her estranged husband in a judge's chambers.
"The incident was disturbing and shocking," Broward County Circuit Court Judge Ronald Rothschild recalled Tuesday, adding, "In addition to the violence, the fact is that it happened in a court proceeding."
The proceeding that took place Friday in Judge Rothschild's chambers was the last hearing in the divorce of Scott-Gonzalez and her husband of about five years, Paul Gonzalez.
Thirty-five minutes into the hearing, when the issue of child support was brought up Gonzalez -- acting as his own attorney -- decided to leave the room, according to Michael Dunleavy, the attorney for Scott-Gonzalez. The couple, both former Marines, are the parents of two young children.
"He goes, 'I'm not going to pay child support,' and Judge Rothschild says, 'You know all parents have to pay child support, we all have to support our children,' and he (Gonzalez) stalked out of the room," said Dunleavy.
"He went calmly," remembered Judge Rothschild, "not happily, but calmly walked out of chambers, took one step out of the door, then in a blink of an eye -- I mean literally one step -- he came back in."
Upon returning, Gonzalez suddenly started punching his estranged wife, according to those in the chambers.
"It was from behind, I was blindsided, I was knocked out after the first punch," said Scott-Gonzalez.
A bailiff was not in the room at the time. The judge said if he had had any indication that Gonzalez was violent, he would have had security in his chambers. Scott-Gonzalez said in the past, she had twice sought restraining orders against her estranged husband but both attempts had been denied.
"I was very afraid of him but I did think that I was going to be safe," said Scott-Gonzalez, "As soon as you walk into the courthouse you have to go through a metal detector. There are Broward (County) sheriff's officers all over the place."
Both Scott-Gonzalez and Judge Rothschild said Dunleavy became the hero.
"My lawyer was sitting right next to me, which thank God he was, because he literally saved my life," said Scott-Gonzalez.
Dunleavy said he just reacted by restraining Gonzalez. when he saw his client being hit repeatedly.
Dunleavy said the judge hit a panic button and several deputies converged on the room, subduing and arresting Gonzalez.
Gonzalez has been charged with a felony battery resulting in great bodily harm, and resisting arrest. He is currently being held in a Broward County jail on $1 million bond and could not be reached Tuesday.
That is a bond high enough for Scott-Gonzalez to feel safe, for now.
"For him to have done that in front of who he did it in front of, who's to say when he gets out he's not going to come after me?" worries Scott-Gonzalez. She wants other men or women to know if they are afraid of their spouse even in a court setting that they should ask the judge for additional security.
"I thought you go there to get everything taken care of. Why would they (court officials) choose a place that wouldn't be safe? I thought it was safe," said Scott-Gonzalez.
"The only response I can give her is I go into that courtroom anticipating that I am going to be equally as safe," said Judge Rothschild, adding, "Violence is not OK any where but it is certainly not OK in the court of law in the United States of America."
FOLLOW THIS TOPIC