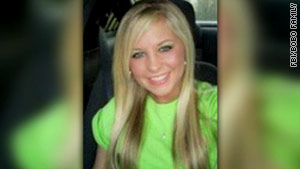 Holly Bobo, 20, has been missing since Wednesday.
STORY HIGHLIGHTS
NEW: Singer Whitney Duncan says of her cousin: "When you see Holly, you see a smile"
NEW: A neighbor looking for Bobo calls the case "the worst crisis that we've ever had"
Investigators have gotten 280 leads since the student, 20, went missing last week
Tennessee's top investigator says there is no suspect, as the search continues
(CNN) -- The reward for information leading to the whereabouts of a Tennessee nursing student or arrest of her possible abductor has swelled 200% -- part of a push to produce a breakthrough in the five-day investigation that has produced 280 leads but not a single named suspect.
Tennessee Bureau of Investigation Director Mark Gwyn said Monday that there's no "person of interest" in the case, which has rocked largely rural Decatur County since 20-year-old Holly Bobo went missing Wednesday.
"There's a family out there that needs closure, and it's up to us to give it to them," Gwyn said in the town of Parsons, where law enforcement and volunteers have been headquartered. "We will let the investigation go where the leads take us. It may be in state, it may be out of state, but no matter where it is, we'll follow that lead."
Late Sunday, at the request of District Attorney General Hansel McCadams, Tennessee Gov. Bill Haslam's office authorized $50,000 to add to the $25,000 reward that had been raised by the community. That means $75,000 is now being offered for details that might lead to a break in the case.
On Monday, volunteers continued to search Natchez State Park in nearby Henderson County, Gwyn said.
In addition, law enforcement officers are going door-to-door talking to people near the Bobo's home. The Tennessee Wildlife Resource Agency, meanwhile, has offered "sight-imaging" technology so investigators can scan the bottoms of nearby lakes.

Search continues for missing student
"We're just hoping that all of this combined, and by getting ... the community active in the search, that we are able to turn up some type of lead," Gwyn said. "And the next lead may be the one we need."
Bobo was on her way to nursing classes at the Tennessee Technology Center campus in Parsons when her brother saw a man in camouflage leading her from their Darden home into the woods, said John Mehr, special agent in charge for the Tennessee Bureau of Investigation.
Mehr's state agency urged people Sunday "to take notice of anyone whose whereabouts were unaccounted for Wednesday morning, when Holly went missing, and changes in behavior since the incident." A tip line -- 1-800-824-3463 -- has been set up for people to call in information about the case.
"It's possible the suspect missed work or appointments last Wednesday, Thursday or Friday unexpectedly," the bureau of investigation said in a statement. "He may also have excessively cleaned a car or ATV, suddenly sold a vehicle, or reported it stolen. The suspect may be showing signs of anxiety or stress."
Gywn said Monday that someone could have taken a car or all-terrain vehicle into the woods near the woman's secluded home. The type of terrain and nature of the community leads investigators to believe that the person responsible is from the area. But Bobo's brother, the lone witness, was unable to get a solid description of the man, according to Gwyn.
The missing woman's cousin, Whitney Duncan -- a country music singer who gained national fame as a finalist on USA Network's "Nashville Star" reality competition, went online Monday to sharply dispute speculation that Bobo's brother has anything to do with the disappearance.
"My cousin Clint, Holly's brother, is NOT a suspect & I'm sick of people saying that he is," Duncan wrote Monday on her Twitter feed. "He has been cleared for good reason. Shut up."
Later Monday, Duncan described Holly Bobo to HLN's Vinnie Politan as "perfect -- she's beautiful, she's sweet, she's funny."
"When you see Holly, you see a smile," the country singer said of her cousin. "It's really sad ... She doesn't deserve this."
Although authorities have backed away from their assertion that Bobo was dragged away, they do not believe she went willingly.
"We feel she was in fear of her life so she was compliant with his demands," Mehr has said.
Hundreds of volunteers -- some on horseback and foot, others on all-terrain vehicles -- have turned out in recent days to hunt for clues in Decatur, Henderson, Henry, Carroll and Benton counties. Many more have attended memorial services or offered supportive thoughts online via several groups on Facebook.
One searcher, Tammy Raimey, told HLN that for days school buses have been transporting people from the Decatur County Fairgrounds to various locales, looking for clues. The volunteers include some who know the Bobos, others who don't, all of them "bound and determined to find Holly" despite fears that someone dangerous may be lurking nearby.
"We've always pulled together in a time of crisis," Raimey said of her community, which is roughly halfway between Memphis and Nashville. "And this is absolutely the worst crisis that we've ever had."
Authorities haven't disclosed the discovery of much evidence. Gwyn said Monday that DNA tests are being conducted to find out whose blood was found on the carport outside Bobo's home, while a white lunch box thought to be that of Bobo was found near a creek eight miles away.
The nature and breadth of the search, Gwyn said, have left investigators busy trying to determine whether other items discovered in nearby roadways and forests are relevant to the case. Kristen Helm, a spokeswoman for the state investigation bureau, said Monday that law enforcement will move its headquarters for the operation to a nearby National Guard armory so officials can sift through "quite a bit of evidence."
The ordeal has been difficult on the missing girl's family, especially her parents Karen and Dana Bobo.
"This is just so tragic and unexpected... We're trying to stay strong, but as you can imagine that's really difficult," said Holly's cousin, Whitney Duncan. "The whole family is just torn to pieces right now."
FOLLOW THIS TOPIC