Beaten Giants fan put back in coma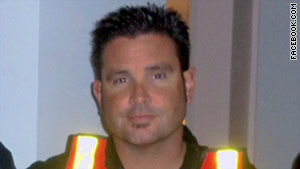 San Francisco fan Bryan Stow was attacked in a parking lot outside the Los Angeles Dodgers' stadium March 31.
STORY HIGHLIGHTS
Bryan Stow suffered seizures Saturday, prompting doctors to put him back in coma
Police: Stow suffered severe head injuries in unprovoked beating outside Dodger Stadium
Stow, 42, is a fan of one of the Dodgers' rivals, the San Francisco Giants
(CNN) -- A San Francisco Giants fan who was beaten outside the Los Angeles Dodgers' stadium late last month was put back in a medically induced coma during the weekend after suffering seizures, a hospital spokeswoman said.
Bryan Stow, 42, remained in critical condition Sunday morning at the Los Angeles County-University of Southern California Medical Center, spokeswoman Rosa Saca said.
"Due to recurrence of seizures (Saturday) morning, it was necessary to put him back on a medically induced coma to help reduce the seizure activity," Saca said in an e-mailed statement. "He will continue to be (monitored) closely for the next few days to see when it is medically indicated to begin reducing the medications again."
Family members said doctors had lowered Stow's sedation earlier in the week after putting him in a medically induced coma after the attack.
Authorities said Stow suffered severe head injuries in an unprovoked beating in a parking lot outside Dodger Stadium after a March 31 Dodgers-Giants baseball game, the season opener for both teams. Two men allegedly approached him in the parking lot and began kicking and punching him while yelling profanities about the Giants, Los Angeles Police detective Jose Carrillo said.

Man attacked at baseball game

Baseball fan in coma after attack
The attackers fled in a light-colored, four-door car driven by a woman with a young boy inside, authorities said. Police released composite sketches of the suspects, who they said were from 18 to 25 years old. Officials are offering a $100,000 reward for information leading to arrests and convictions.
Security increased at Dodger Stadium
Stow, a father of two, is a paramedic who traveled from Santa Cruz, California, to make his first-ever visit to Dodgers Stadium. He went to the game with friends in celebration of the Giants' World Series victory last season, his cousin, John Stow, has said.
On a website launched in part to provide updates on Stow's condition, www.support4bryanstow.com, his family wrote Saturday night that he is "resting under heavy sedation after suffering seizures this morning."
"The weekend has brought family to visit and they have been sharing stories of support from all over the country & world," the family's post said. "We are amazed, humbled, and so blessed.
CNN's Stan Wilson contributed to this report.
FOLLOW THIS TOPIC