3 men charged in 4-decade-old Massachusetts murder mystery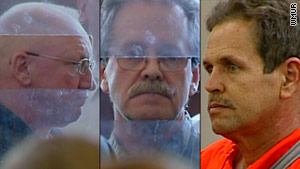 From left: Edward A. Brown, Walter Shelley and Michael Ferreira face charges a 1969 case.
STORY HIGHLIGHTS
Three men are charged with the murder of a 15-year-old boy
Police found the boy's body in an abandoned car in September 27, 1969
He had been bound with rope and his mouth was taped shut
(CNN) -- Three men have been charged with the murder of a 15-year-old boy, potentially bringing a close to a murder mystery more than four decades old, a Massachusetts prosecutor said Friday.
Edward A. Brown, 59, Walter Shelley, 60, and Michael Ferreira, 57, face charges surrounding the asphyxiation murder of John McCabe on September 27, 1969, Middlesex District Attorney Gerry Leone said in a written statement.
"These charges are the result of an incredible turn of events in what has been an unsolved case for over 40 years," he said.
Police found McCabe's body in an abandoned car in Lowell. He was bound with rope and his eyes and mouth were taped shut, Leone said.
"Suddenly they said we had to meet at the police department to discuss and my parents and I were almost in shock," Roberta McCabe-Donovan, who was 6 years old when her brother was killed, told CNN Friday.
Prosecutors say Shelley faces murder charges. Brown is charged with manslaughter. Ferreira was a minor at the time and will be charged with murder in juvenile court, Leone added. He also faces perjury charges outside of juvenile court for allegedly lying to the grand jury.
"They were persons of interest for a long time," said district attorney spokeswoman Jessica Venezia Pastore. New witness statements combined with old evidence enabled the break in the case, she said.
Investigators say McCabe disappeared after leaving a dance at a Knights of Columbus hall in Tewksbury, Massachusetts. His parents reported him missing hours later when he did not arrive home.
The three men allegedly abducted McCabe and "bound and gagged him in such a way that it led to his death," Leone said.
McCabe was left in the trunk of a car in a deserted field, where he ultimately died.
The medical examiner determined McCabe died from "asphyxia due to strangulation."
"There was no reason known for 42 years and then today we found out it was because of a girl," said McCabe-Donovan, who saw the perpetrators for the first time Friday at the courthouse. "I don't believe John even knew the three of them."
FOLLOW THIS TOPIC