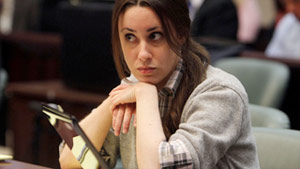 Casey Anthony faces a capital murder charge in the death of her young daughter.
STORY HIGHLIGHTS
A hearing is held Friday in Orange County, Florida, in the Casey Anthony case
Anthony's lawyer says cameras shouldn't be allowed during jury selection
The judge is unsupportive, saying: "There's a thing called the First Amendment"
Anthony is charged with murdering her 2-year-old daughter, Caylee
(CNN) -- A lawyer for Casey Anthony, the Florida woman accused of killing her 2-year-old child, pushed Friday to prohibit cameras at jury selection for his client's upcoming trial -- a motion that the presiding judge said he would have to consider, but was not likely to support.
"We don't live in Egypt. We don't live in Libya," Orange County Superior Court Judge Belvin Perry Jr. said in an Orlando court about the idea of restricting news coverage. "There's a thing called the First Amendment. Whether we like it or not, it's in the Constitution."
Anthony, 25, faces a capital murder charge in the death of her young daughter, Caylee, plus six other charges including aggravated child abuse, aggravated manslaughter of a child and misleading law enforcement. The girl was reported missing in July 2008, about a month after she was last seen. It wasn't until five months later that investigators found her body.
Since then, her story has generated an intense media spotlight -- prompting the court's decision to move her jury selection, planned for next month, to another location because of concerns about getting an impartial jury in Orange County. The jurors would be transported to Orange Country for the trial.
The location where jury selection will be held will not be revealed publicly until the morning that it begins. Perry said that a single person each with the defense and prosecution teams would be told in advance where the proceedings would be, only so they can make logistical arrangements.
On Friday, the defendant's attorney, Jose Baez, said he doubted that a jury could be seated promptly anywhere in Florida, given all the public attention.
"If the media is the culprit of the damage of us being able to seat a fair and impartial jury, I think what the logical choice to do would be to place some types of restrictions on the media," Baez said.
The lawyer specifically urged Perry not to allow media to broadcast the proceedings.
Perry, Orange County's chief judge, said he'd look at any such formal request, but made clear his leanings. He said that he did not know of any case in which judges ordered cameras shut off since 1979, when the state's supreme court ordered that such media should be allowed.
"The First Amendment is not totally absolute, but it's pretty close to being absolute," Perry said,
The issue was one of several addressed at Friday's hearing. Jury selection is to begin May 9, and Perry said Friday, "if we are making progress ... we won't stop."
The questions raised and answered Friday included whether the jury can see photos of Casey Anthony dancing at the Fusion Ultra Lounge in Longwood, Florida, days after young Caylee was last seen by other relatives.
"There is nothing in those photographs that relate to the (alleged) crime," Baez said. "They're completely irrelevant and highly prejudicial."
But prosecutors said that Anthony's actions in June and July, between when her daughter was last seen and when she was reported missing, are relevant in proving her guilt. Moreover, they claimed that the nightclub photos paint a picture contrary to what the suspect had told police about her demeanor in that period.
"During Ms. Anthony's conversations with police, she indicated that she was looking for her daughter," said Frank George, a member of the prosecution team. "These photographs and her actions ... certainly rebut the idea that she was a distressed mother looking for her child."
Judge Perry denied the defense's plea and allowed the pictures to be submitted as evidence, so long as the prosecution is able to establish a "proper foundation" as to why they are relevant to the case.
The defense team did score a victory on another photograph, showing a smiling Casey Anthony on July 16, after she talked with police for the first time. Baez said the photo will "lead people to start speculating" about her mental state, saying that a "smiling person doesn't exactly make them happy."
What was expected to be the main subject of Friday's hearing -- whether two mental health experts could testify for the defense about Casey Anthony's state -- became a moot point when her lawyers announced neither would take the stand.
InSession's Nancy Leung contributed to this report.