Police: Tennessee woman, 20, missing after being dragged from home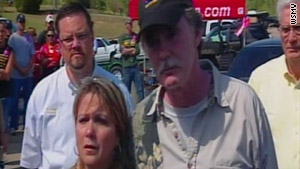 Karen and Dana Bobo ask for help in finding their daughter, Holly, who was seen being dragged toward woods.
STORY HIGHLIGHTS
Holly Bobo, 20, was last seen Wednesday morning at her home
A relative saw her being dragged by a man in camouflage
Her mother says: "Holly, I love you so much. Please try to get home"
(CNN) -- The tearful parents of a 20-year-old Tennessee nursing student pleaded for her safe return on Thursday, one day after she was seen being dragged away from her home and into woods.
Holly Bobo was wearing a pink shirt and light blue jeans at 7:30 a.m. Wednesday, when a relative saw her being dragged across the carport of her Darden, Tennessee, home, according to a statement from the Tennessee Bureau of Investigation.
The witness said the man, wearing camouflage, hauled the young woman toward nearby woods. The state bureau of investigation and the Decatur County Sheriff's Department are looking into the incident as a possible home invasion and kidnapping.
A day later, as law enforcement, friends and neighbors searched intensively for Bobo, police had not named any suspects in her alleged kidnapping. A $25,000 reward had been offered for information that may help authorities locate the woman, who is 5 feet, 3 inches tall and weighs about 110 pounds, and arrest her purported abductor.
"We'd just like to send a plea out to whomever might be listening and watching to help this family," said Decatur County Sheriff Roy Wyatt, who choked up speaking shortly after Bobo's parents addressed reporters.
"You can only imagine what they go through. They need your help."
Minutes earlier her father, Dana Bobo said, "My daughter was taken from us yesterday morning ... from my house, going to school."
The young woman was taking classes at a Tennessee Technology Center campus in Parsons, at an off-campus center that is affiliated with the University of Tennessee at Martin.
Dana Bobo echoed Wyatt's plea, calling for "any help (to) bring home our daughter" and thanking law enforcement personnel and citizens who had joined the search for the young woman. He said the incident occurred when neither he nor his wife were at home.
Online, the search has gained momentum, with more than 12,000 people joining a Facebook group titled, "Prayer for the return of Holly Bobo" by 5 p.m. Thursday. That amounts to several times more people than all of those living in the rural central Tennessee community of Darden, about 100 miles southwest of Nashville and 120 miles northeast of Memphis.
Bobo's parents, meanwhile, struggled to come to grips with their daughter's disappearance. Her mother, Karen Bobo, cried throughout her husband's brief statement to reporters and then spoke directly to Holly and whomever might know what has become of her.
"Holly, I love you so much. Please try to get home to us." Karen Bobo said.
"She's ... so precious, you just don't even know. I just want her back."
CNN's Greg Botelho contributed to this report.
FOLLOW THIS TOPIC