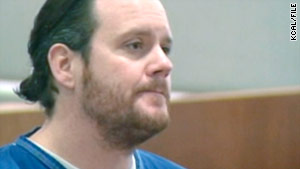 John Burgess, shown here in 2007, admitted to drugging 19-year-old Donna Jou and dumping her body at sea.
STORY HIGHLIGHTS
John Burgess admitted drugging Donna Jou and disposing of her body after she died
He pleaded guilty in 2009 and is now about to be released from prison
The victim's parents say he should stay in jail and the case should be reopened
District attorney's office says it would talk to the Jou family but hasn't been contacted
(CNN) -- A sex offender who admitted drugging a 19-year-old California woman and then, after she died, dumping her body at sea is scheduled to be released Friday after less two years in prison, outraging the victim's parents.
Nili and Reza Jou are organizing a demonstration Friday in Los Angeles. Also on Friday, John Steven Burgess, 38, is to leave the California Institution for Men in Chino, according to the California Department of Corrections and Rehabilitation's website.
The Jous' daughter, Donna, was last seen alive in 2007. Her body has never been found.
"We have been victimized not only by Burgess, we have also been victimized by the criminal justice system," Reza Jou, the victim's father, told HLN's Jane Velez-Mitchell. "We are outraged."
A spokeswoman for the Los Angeles County district attorney's office, noting an early release is up to the state's corrections department, said her office had believed the family's attorney initially appeared "quite pleased with the outcome" of the 2009 plea deal that landed Burgess in jail. One condition of that agreement was that Burgess sit down with Jou's relatives and answer their questions.
Spokeswoman Sandi Gibbons said the district attorney's office hasn't heard from the Jous or their attorneys in recent weeks, including regarding Friday's planned protest or their desire to have the case reopened.
"They have not contacted us directly," Gibbons said. If the family wants to talk with authorities Friday, "we will talk to them," she said.
According to a release from the district attorney's office detailing the case, Donna Jou -- then a San Diego State University student -- had met Burgess after posting an ad on the online site Craigslist. She was offering her services as a math tutor for other students, her parents said.
Nili Jou described her daughter as "compassionate" and "full of life." According to a tribute website by her parents, Donna Jou had a 4.4 grade-point average in high school and scored 1,570 out of a possible 1,600 on the SAT test
"She was smart," Nili Jou told HLN's Vinnie Politan. "She just made a (mistake) trusting someone she didn't know."
Burgess admitted to authorities that on June 23, 2007, Donna Jou came to his Los Angeles home for a party. He said that he gave the young woman various drugs, including cocaine, heroine and alcohol, the district attorney's office said after Burgess pleaded guilty to two charges related to the case in May 2009. The morning after the party, he said, he woke up and found Jou dead.
"He said he panicked and used his sailboat to dump her body in the ocean," the district attorney's office said.
The Jous criticized the prosecution's approach, saying it relied excessively on the testimony of a person they call suspicious -- Burgess.
"This man is a big liar, a criminal," said Reza Jou.
Before Donna Jou's disappearance, Burgess had been convicted in January 2003 in Los Angeles for committing lewd or lascivious acts with a child 14 or 15 years old and was listed as a sex offender.
Related to that conviction, in late 2007 Burgess was sentenced to three years in prison after pleading no contest for failing to register as a sex offender in California.
While behind bars, Burgess was arraigned in March 2009 in connection with the Donna Jou case. Two months later, he confessed to one count each of involuntary manslaughter and one misdemeanor count count of concealing an accidental death. As part of a plea deal, prosecutors dropped drug-related charges.
A judge subsequently sentenced Burgess to a maximum sentence of five years for the two crimes to which he had pleaded guilty. Now he is scheduled for early release.
The Jous said they don't believe that Burgess, who expressed remorse at his sentencing, has been rehabilitated.
"No way, it's impossible," Nili Jou said. "We are joking ourselves ... (He) won't change."
CNN's Greg Botelho contributed to this report.
FOLLOW THIS TOPIC