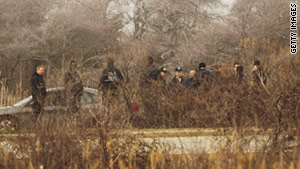 Police stand near a spot where remains were found Monday in Nassau County on New York's Long Island.
STORY HIGHLIGHTS
Dive teams planned to look in waterways on the north side of the barrier island
One resident says his wife and daughter are scared to come home
Another resident: "It kind of creeps me out" to have been driving past bodies
Police are investigating another possible set of remains in the suspected serial killings
(CNN) -- As police on New York's Long Island were sending dive teams to search for clues in a string of suspected serial killings Wednesday, area residents were trying to come to terms with the grisly crimes.
People who live near where bodies have been found said the "eerie" and "frightening" findings have left some families shaken.
"It's just crazy," said Walter Arnold, 65, who -- along with his wife Dolores -- brought up five children in a house on Long Island's West Gilgo Beach. "My wife is scared to come home for the first time. My daughter is frightened. It's just horrible."
But others said that because of what's known about the killings and the victims, they are not afraid of being targeted. The four victims who have been identified thus far were all women who advertised prostitution services on websites such as Craigslist, police have said.
Tourism and real estate professionals on Long Island said the apparent string of killings does not seem to have affected business.
Police said Monday they were examining a skull found on the outskirts of a bird sanctuary in Long Island's Nassau County, potentially the ninth set of remains discovered in the probe. About four hours earlier, a New York state police officer and his cadaver dog spotted another set of remains about a mile and a half away. On Tuesday, police said both the skull and the remains were determined to be human.

L.I. serial killer knows area well

9th body found on Long Island beach

Is New York serial killer a former cop?

Remains connected to serial killer case?
Since December, eight sets of human remains have been found in Suffolk County, just to the east of Nassau County and roughly five miles from the sites of Monday's discoveries.
Police have not said whether the latest remains are from two different people, nor whether they could have come from one of the other eight victims.
Divers with the Suffolk County Police planned to scour waterways on the north side of the barrier island on Wednesday.
Feds to use aerial imaging in search
"It's not that it makes me afraid, it's just kind of eerie," said Andrew Quinn, 27, who lives in East Islip, about 10 miles from the Gilgo Beach area where some of the bodies have been found.
Quinn said he often drives along Ocean Parkway, the site of some of the discoveries. "It kind of creeps me out, but other than that it doesn't really affect me," he said.
Jerry O'Neill, a real estate broker who lives in Amityville, Long Island, often spends time at Gilgo Beach during the summer.
"As isolated as the locations are where the bodies are found, and the category of women (victims) who seem to have been all online prostitutes, there doesn't seem to be anyone concerned about going over and spending time on the beach," he said.
"They're talking about it, but is anybody worried that there's someone in our community who is going to grab people off the street? No."
Authorities are working on the assumption that a single person is responsible for the killings.
"Prostitutes are the most common victims of serial killers," says James Alan Fox, a criminology expert with Northeastern University. The killers view prostitutes as "easy targets" and "psychologically, they can con themselves into thinking that this isn't so bad, because the victims are, in their minds, less than human. It is called dehumanization," he said.
Police have vowed to find and stop the killer. "Collectively, we want to bring to justice this animal who has obviously taken the lives of a number of people," said Nassau County Executive Ed Mangano on Monday.
"It is a little frightening," Janet Bunger with the West Gilgo Beach Association said Tuesday. "We brought up four children there. We have grandchildren that come over. We've never had to worry about the neighborhood. I think now we'll be a little more cautious and aware of surroundings more."
"I think it's got people a little shook up," said her husband, Charlie Bunger.
"It shakes us up that somebody was driving along that highway over the last five years or so ... and dumping bodies," he added. "We live right down the road from where the bodies were dumped."
The Bungers said the association does not plan anything "out of the ordinary" in response to the killings. People in the community already watch out for each other, he said.
Chip Gorman, deputy regional director with the New York State Office of Parks, Recreation, and Historic Preservation, said the investigation has not affected tourism at the popular beaches in the area, which are currently in the off-season. "If it was during the summer, I may be giving you a different answer," he said.
But still, officials are "not projecting it to impact beach attendance whatsoever."
Jim Netter, a real estate broker in West Islip, said he has not seen property values diminish and has seen no change in sales. In fact, the media attention has led to "an increase in the number of inquiries" about homes in the area, he said.
FOLLOW THIS TOPIC