FBI: Man held in Ohio over California synagogue bombing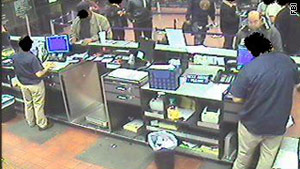 In a photo released by the FBI, a man believed connected to the bombing of a California synagogue is seen at a Denver bus station.
STORY HIGHLIGHTS
NEW: Los Angeles County authorities file charges and seek extradition
NEW: If convicted of all charges, the suspect could face life in prison
FBI: The manhunt ended in a Cleveland suburb
The FBI says an anonymous caller tipped off police
For more on this story, see CNN affiliate KABC.com
Los Angeles (CNN) -- A man arrested in Ohio in connection with last week's synagogue bombing in southern California was charged Tuesday with four felony counts that carry the possibility of a life sentence without parole.
Ron Hirsch was wanted in connection with the explosion Thursday at a Jewish house of worship in Santa Monica, California. No one was injured.
Hirsch was arrested after an anonymous caller tipped off authorities that he was in Ohio, according to FBI spokeswoman Laura Eimiller. Hirsch, 60, was taken into custody Monday night in Cleveland Heights, Ohio, a suburb of Cleveland, according to the FBI.
The Los Angeles County District Attorney's Office announced Tuesday that Hirsch was charged with one felony count each of explosion with intent to murder, use of a destructive device and explosive to injure/destroy, possession of a destructive device near a public place and possession of a destructive device near a private residence.
The complaint seeks Hirsch's extradition to California, where Deputy District Attorney Ronald Goudy of Los Angeles County recommended bail of $3 million. If eventually extradited and convicted of all the charges, Hirsch could be sentenced to life without the possibility of parole, according to a statement by the district attorney's office.
On the day of the explosion, Hirsch bought a ticket on a New York-bound bus but got off in Denver, the FBI said Monday. It wasn't immediately clear how he made his way to Ohio.
Hirsch is believed to have family in New York, the agency said.
Authorities initially thought the explosion was accidental, but further investigation revealed it was caused by an explosive device, the FBI said. Investigators linked Hirsch to the crime scene based on evidence recovered at the site, the agency said.
Investigators haven't determined a motive in the attack, the FBI said Monday.
The FBI described Hirsch as a "transient" known for asking people at synagogues for money. He is wanted on a state charge of possessing a destructive device and unrelated local charges, the FBI said.
The FBI says he is also known as Israel Fisher or J. Fisher.