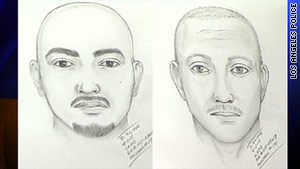 Authorities released these composite sketches of the two assailants who attacked the Giants fan at Dodgers Stadium.
STORY HIGHLIGHTS
Los Angeles mayor calls two Dodger fans' attack on Giants fan "despicable"
Giants fan Bryan Stow is hospitalized with brain damage
Assault occured last week after season opener at Dodgers Stadium
Read more about this story from CNN affiliate KPIX.
Los Angeles (CNN) -- Los Angeles Mayor Antonio Villaraigosa made an emotional plea Friday asking the two men suspected in the recent brutal beating of a visiting San Francisco Giants fan after a Dodgers game to "turn themselves in."
"What you did was wrong, it was despicable and senseless, unprovoked, but make it a little better by coming forward," Villaraigosa said during a press conference.
At the same event, Los Angeles Police Chief Charlie Beck announced a series of security measures to restore the public's sense of safety at the stadium, including sophisticated cameras designed to read license plates and monitor the sprawling parking lot.
Los Angeles Dodgers owner Frank McCourt, after facing recent public criticism for his initial public silence to safety concerns, also assured fans Friday that many security mechanisms will be in place for next week's home series against the St. Louis Cardinals. He added he would pay for the increased staffing and additional security but declined to state the cost.
The press conference was prompted by questions about how two men, whose ages are believed to be in the range of 18 to 25, attacked 41-year-old Bryan Stow in the Dodgers Stadium parking lot after the season opener against the Giants on March 31. Stow, a Giants fan and a paramedic who traveled from Santa Cruz, California, to make his first-ever visit to Dodgers Stadium, remains hospitalized with brain damage.
Stow was still in critical condition under a medically induced coma Friday afternoon in Los Angeles County-University of Southern California Medical Center, spokesman Frank Toscano said.
City officials said they were rolling out "a new zero-tolerance policy on stadium violence and strict fan code of conduct," and police will assist in enforcing a "no tailgating" policy in the stadium parking lots and surrounding areas before, during and after baseball games.
McCourt shared the chorus of concern.
"I've heard the fans and citizens of this community. They are uncomfortable with the behavior of some at Dodgers stadium. I want to say I hear you loudly and clearly," McCourt told reporters.
"I am appalled at the criminal behavior of these two individuals and as a steward of the Dodgers I want to make that very completely clear these two individuals are not true Dodgers fans -- they are common criminals," McCourt added.
The most visible safety measure will be a significant increase in the presence of uniformed police officers patrolling the stadium during games, Beck said.
"When you go into Dodger stadium you are going to meet a Los Angeles police officer. When you leave Dodgers Stadium, you will bid farewell to a Los Angeles police officer," Beck said.
Authorities have said Stow was attacked in the presence of about 100 fans while leaving the stadium parking lot. Authorities are asking for any of those 100 fans to come forward with information. The two suspected assailants fled after the beating in a light-colored, four-door car driven by a woman with a young boy inside, authorities said.
Beck even warned season ticket holders that if they committed any violent acts, their tickets could be revoked for the rest of the season.
"If you come there to intimidate, antagonize either other fans or fans of other teams, you are going to do one of two things: you will be leaving Dodger Stadium or going to jail," the police chief said.
A $100,000 reward has been issued for information leading to the arrest and conviction of the suspects, officials said. Authorities said the two suspects, both believed to be Hispanic, wore thin mustaches. One had numerous tattoos on his neck and the other had a goatee, authorities said.
An eyewitness to the beating, Joe Lagano, told HLN's Prime News on Friday that he helped break up the attack. He said he felt "sick to my stomach" when he saw the assailants kicking Stow's head.
"I was so close that I actually heard the punch to Bryan's head, and it was loud. I mean it was solid. At that point, my eyes focused in on him and that's when he went down -- stiff like a log. He didn't crumble down. He went straight back, hit his head on the pavement," said Lagano, who attended the game with his wife and family.
"He just kept going at him," Lagano added. "I couldn't stand there and watch."
"To me, he seemed pretty drunk," Lagano said of one of the attackers. "My goal was just to get them away."
He and others challenged the assailants, questioned what they were doing, and told them to stop, Lagano said. "I guess we did stop it," he said.
During the game, Stow sent a text message to his cousin's wife in which "he basically said he was scared inside the stadium," his cousin John Stow has said.
CNN's Dana Ford contributed to this report.
FOLLOW THIS TOPIC