ATF: Construction accident caused blast near synagogue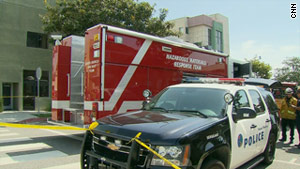 Mechanical failure in a building near a Santa Monica, California, synagogue caused an explosion, say officials.
STORY HIGHLIGHTS
NEW: Authorities determine a construction accident is behind explosion
An explosion occurred Thursday morning at a Santa Monica, California, synagogue
Authorities are looking at a possible hate crime
Santa Monica, California (CNN) -- Federal authorities have determined that an accident was behind an explosion Thursday morning near a synagogue in Santa Monica, California, an official said.
"Early indications point to a construction accident," said Christian Hoffman, spokesman for the U.S. Bureau of Alcohol, Tobacco, Firearms and Explosives in Los Angeles.
Sgt. Jay Trisler of the Santa Monica Police Department told CNN that there was some sort of mechanical failure in the building adjacent to the synagogue that caused the explosion.
Authorities ruled out a pipe bomb or any sort of incendiary device as the source of the explosion, Trisler said.
Earlier in the day, authorities had been investigating the explosion as a possible hate crime against the synagogue -- until they deemed the explosion was an accident.
Television news helicopters showed damage to the roof of a structure adjacent to the Jewish house of worship, and crews pulled out a pole with a concrete footing that, in total, appeared to be the length of one of the men. The explosion apparently sent the projectile through the roof, which had a hole large enough for a person to crawl through it.
No injuries were reported, authorities said.
Police earlier evacuated a four-block area around the synagogue while local and FBI bomb squads were investigating.
Later in the day, Rabbi Eli Levitansky of Chabad House told CNN that he was leading a prayer service for about 20 worshippers when the explosion occurred.
"It sounded like a boom," Levitansky said. The congregants didn't panic but they were ordered to evacuate the building, he said.
"We moved outside and continued the prayer service," he said.
Levitansky said that violence in the Middle East has required greater vigilance at synagogues in the United States, but the explosion didn't cause heightened anxiety.
CNN's Sonya Hamasaki and Rosalina Nieves contributed to this report
FOLLOW THIS TOPIC