New Jersey man found guilty in school yard execution-style killings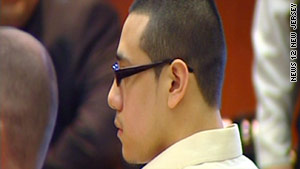 Alexander Alfaro was 16 when he took part in the execution-style shootings of three college students in 2007.
STORY HIGHLIGHTS
Alexander Alfaro convicted of murder, felony murder, robbery, other charges
Alfaro is the third person found guilty in the killings of three men
Three other defendants have yet to go to trial
Prosecutor: "I hope that this verdict will give some small degree of solace to the families"
(CNN) -- Alexander Alfaro was convicted Tuesday on 16 of 17 charges related to the 2007 execution-style killings of three college friends.
Alfaro, 20, was convicted of murder, felony murder, robbery, conspiracy and weapons charges, according to acting Essex County Prosecutor Carolyn Murray. Alfaro was found not guilty of attempted murder of Natasha Aeriel, the sole survivor of the attack.
He is the third person convicted in the killing of Terrance Aeriel, 18; Dashon Harvey, 20; and Lofemi Hightower, 20, by shooting them in the head after forcing them to kneel against a wall on the grounds of an elementary school in Newark, New Jersey.
Alfaro's attorney was not immediately available for comment.
Three other defendants -- Jose Carranza, 32; Gerardo Gomez, 18; and Shahid Baskerville, 19 -- have yet to go to trial.
"We hope that he will join both of his other co-defendants, who are now serving multiple life sentences in state prison,'' said prosecutor Robert Laurino at a news conference announcing the verdict. "As I have sadly said on two prior occasions, I hope that this verdict will give some small degree of solace to the families of Lofemi Hightower, Dashon Harvey, Terrence Aeriel and Natasha Aeriel.''
"Our work did not end today," said Romesh Sukhdeo, a prosecutor who tried the case. "We will now move forward and prepare for the next trial, which will probably take place in the fall.''
Two other men involved in the attack have been sentenced to life in prison.
Melvin Jovel was sentenced to a total of 245 years in November 2010. He received three life sentences for each murder and 20 years for attempted murder, Carter said.
Rodolfo Godinez, the first defendant to be tried for the killings, was found guilty on all 17 counts.
Carter said Godinez was involved in gang recruiting and characterized himself as the ringleader who used a handgun and a machete in the slayings. He was sentenced in May 2010 and is serving 216 years in prison.
Alfaro was 16 at the time of the killing. He will be sentenced on May 19 and faces multiple life sentences, prosecutors said.