L.A. police: No more immediate charges in Grim Sleeper case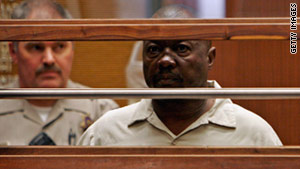 Lonnie David Franklin Jr., 57, is charged in the deaths of 10 women in the Grim Sleeper case.
STORY HIGHLIGHTS
Accused Grim Sleeper serial killer Lonnie David Franklin Jr. is charged with killing 10 women
Prosecutors in Los Angeles are now preparing for trial
Police have yet to identify 55 women whose photos were found in Franklin's home
Los Angeles (CNN) -- Los Angeles police don't expect any additional immediate charges in the Grim Sleeper case as prosecutors are now preparing to try Lonnie David Franklin Jr., accused of murdering 10 women over a 20-year span, Det. Dennis Kilcoyne said Tuesday.
"As far as additional charges, I would doubt it," Kilcoyne told reporters at a news conference. "It would be like starting over again, with this wheel of justice that is slowly turning now with Mr. Franklin. We don't want to create that problem with the justice system.
"But that's not to say we wouldn't file additional cases down the road if we were to make cases," Kilcoyne later added. "We still have 55 faces here where we don't have the answers to."
He was referring to 55 women still unidentified from among 180 photographs and videotapes of women found in Franklin's home.
Police announced Tuesday that they were focusing their investigation on eight other women, and photographs of some of them were found in Franklin's "special location" in his garage, "where he had a little stash of ... items," Kilcoyne said.

2010: Arrest made in 'Grim Sleeper' case

2010: Tips in 'Grim Sleeper' case
Authorities have identities on seven of those women: six have been reported missing and one is a murder victim, Kilcoyne said. The eighth woman is unidentified, he said.
Four of the six missing women weren't previously connected to the investigation until they were reported to police after Franklin's arrest, authorities said.
In July, 57-year-old Franklin was arrested and charged with 10 murders and one attempted murder related to slayings that date to 1985. He has pleaded not guilty.
Police were led to Franklin after his 28-year-old son was arrested and gave a DNA swab, authorities said. When authorities announced the arrest, they revealed that Franklin had, for a time, worked as a garage attendant at a Los Angeles police station.
FOLLOW THIS TOPIC