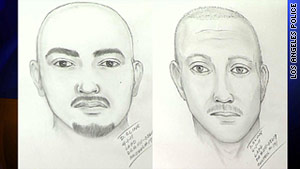 Authorities released these composite sketches of the two assailants who attacked the Giants fan at Dodgers Stadium.
STORY HIGHLIGHTS
A neurosurgeon says 41-year-old Bryan Stow's prognosis is "very hard to say"
Police ask for help from the 100 or so people who were near the assault
Police still searching for suspects; Giants fan was attacked at Dodgers game
Read more about this story from CNN affiliate KPIX.
Los Angeles (CNN) -- The family of San Francisco Giants fan Bryan Stow, critically hurt in an unprovoked attack at last week's season opener at Los Angeles' Dodgers Stadium, expressed gratitude Tuesday for the outpouring of support and sympathy they received from baseball fans around the country.
Los Angeles County-University of Southern California Medical Center neurosurgeon Dr. Gabriel Zada told reporters, "It's going to be a long recovery process" for the brain-injured patient, who remains in critical condition.
John Stow, the man's first cousin, said, "Our family and friends would like to thank everyone around the nation for their support and prayers for Bryan." Dressed in a Giants jersey and cap, he also thanked police and hospital staff.
Bryan Stow's sister, Erin Collins, told reporters that she and her family have been received with "open arms and love" by Dodger fans while in Los Angeles.
John Stow denounced the assault as "cowardly." He was joined by Bryan Stow's parents and two sisters, a hospital spokeswoman said.
"Though this has been a terrible tragedy done by cowardly people, it's reassuring to know that good people are speaking out," Stow said. "We would like to use this as a rallying cry to stop unnecessary violence in our greatest pastime and all other sports, but not only here but abroad. This would be one of the greatest gifts you could give to us but especially Bryan."
Bryan Stow, 41, is a paramedic who "has never been in a fight in his life," his cousin said.
"Bryan was a wonderful father and a great person, a man who was dedicated to helping people and saving people's lives, and he gave to the community," Stow said. "For such a terrible event to have happened to him is an outrage."
He asked the suspects or people who know them to "have the courage to come forward."
While being questioned by reporters, Stow answered: "Do I think this is a hate crime? I just think it's senseless violence. They were young thugs who took it out on an innocent person."
Bryan Stow was attending the game -- the first time he was ever at Dodgers Stadium -- with friends in celebration of the Giants' World Series victory last year, John Stow said. Bryan Stow went to almost all the Giants' playoff games last season and even went to spring training this year, he said.
Referring to her brothers' assailants, Collins added: "We also know that they weren't true Dodger fans."
In an interview with CNN, Stow's mother, Ann, said her family has put anger and animosity aside, especially when they enter her son's hospital room.
"All of our energy is going to be positive, so when we go in to see Bryan, that's all he has, is positive energy," the mother told CNN. "We cry outside (his hospital room), but we're positive inside."
At the same news conference outside the hospital, Los Angeles police detective Jose Carrillo made a public appeal for help in identifying the people responsible for the assault.
A $100,000 reward has been issued for information leading to the arrest and conviction of the suspects, officials said.
With about 40,000 fans attending the Dodgers' opening day in Los Angeles, "we believe there was approximately 100 people near where this assault took place. We would like them to contact us and provide whatever information they can," Carrillo said.
Authorities are pursuing several leads and have taken evidence from the scene of the assault, he said.
"Right now, there are several leads, and we are receiving a lot of tips from the public," Carrillo said. "Hopefully, the information we're receiving will identify the two individuals responsible for this senseless attack. There's no place for this in baseball."
Authorities have released composite sketches of two assailants who allegedly approached Stow in the parking lot Thursday and began kicking and punching him while yelling profanities about the Giants, Carrillo said.
Police were still searching for the suspects, who authorities said were between 18 and 25 years old.
Authorities are examining security camera video and conducting follow-up interviews with witnesses who treated the injured man. The assailants might have left the scene in a vehicle with a young boy, Carrillo said.
Carrillo said the parking lot video "is not very clear because of the hours of darkness and the lighting conditions."
During the game, Stow sent a text message to his cousin's wife in which "he basically said he was scared inside the stadium," John Stow said. "He doesn't normally use a term like that loosely."
Authorities believe that the two suspects had earlier attacked a group of three or four young men, also after the game, but those young men left the stadium without reporting the incident, Carrillo said. Authorities are asking those young men to come forward, he said.
Stow sustained severe traumatic brain injury, with a severe fracture to his skull and contusions to both frontal lobes. He was placed in a medically induced coma at Los Angeles County Hospital, Zada said.
A life-saving operation was performed Friday to reduce pressure in the brain, Zada told reporters. The entire left side of the skull was removed during the surgery, he added. Since then, Stow has remained in a comatose state, Zada said.
"Our medical team has done and is doing everything to ensure the most optimal outcome that is possible is achieved," Zada said. "It's very hard to say what the prognosis is."
Stow shows evidence of "brain injury and dysfunction," Zada said. "It's going to be a long recovery process, and right now we're trying to make sure he's stable and he's out of critical condition.
"It's going to be a long haul. He's very lucky to have a cohesive family behind him," Zada added.
CNN's Stan Wilson and freelancer Kara Finnstrom contributed to this report
FOLLOW THIS TOPIC