Giants fan still in critical condition after attack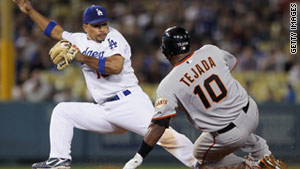 The San Francisco Giants and Los Angeles Dodgers faced off on Friday in Los Angeles, California.
STORY HIGHLIGHTS
Police say 41-year-old Bryan Stow, an avid Giants fan, is fighting for his life
Family members say two men attacked him after last week's season opener
Investigators are still searching for the suspects, who were wearing Dodgers clothing
Los Angeles (CNN) -- A San Francisco Giants fan remained in critical condition Monday following an unprovoked attack on opening day at Dodgers stadium, hospital officials said.
Bryan Stow, 41, a paramedic, sustained severe head injuries and was placed in a medically induced coma at Los Angeles County Hospital, said spokeswoman Rosa Saca.
Authorities pleaded for the public's help after releasing composite sketches of two assailants who allegedly approached Stow in the parking lot Thursday and began kicking and punching him while yelling profanities about the Giants, said Los Angeles Police detective Jose Carrillo.
Police were still searching for the suspects, who they said were between the ages of 18 and 25.
Authorities are examining security camera video and conducting follow-up interviews with witnesses who treated the injured man. The assailants may have fled the scene in a vehicle with a young boy, Carrillo said.
Stow traveled to Los Angeles from Santa Cruz, California to attend the season opener.
"This attack is unconscionable behavior that will not be tolerated in either of our ballparks or in either of our cities," the team officials said in a Sunday statement, which was also signed by the mayors and police chiefs of San Francisco and Los Angeles.
A $10,000 reward has been issued for information leading to the arrest of the suspects.
Stow's parents and two sisters have been present at his bedside and plan to join trauma physicians Tuesday at a news conference to discuss his condition, said spokeswoman Saca.
The beating occurred when post-game heckling turned ugly, Stow's brother-in-law told CNN affiliate KPIX.
"Two guys came out of nowhere. Both of them pushed Bryan from behind. He never saw them coming," brother-in-law Dave Collins said.
Fellow paramedics at American Medical Response established a fund to help his family.
"As caregivers, we spend every day responding to patients in their time of need," said Gil Glass, manager of the company's Santa Clara County division. "Unfortunately, it is now one of our own who is fighting for his life from a senseless act of violence."
CNN's Greg Morrison contributed to this report
FOLLOW THIS TOPIC