Blagojevich seeks release of Obama's FBI interview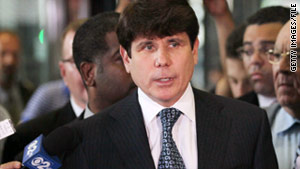 Former Illinois Gov. Rod Blagojevich is preparing for a retrial on corruption-related charges.
STORY HIGHLIGHTS
The former Illinois governor faces a retrial on multiple charges this month
Blagojevich is accused of influence peddling and other alleged corruption
A motion to subpoena Obama for the first trial was dismissed
(CNN) -- Lawyers for former Illinois Gov. Rod Blagojevich are asking a federal judge to order the government to turn over summaries of a December 2008 FBI interview with then President-elect Barack Obama.
In a motion filed Monday, Blagojevich's lawyer argued that Obama's interview might include information that contradicts witnesses expected to testify at the upcoming retrial for Blagojevich on corruption-related charges.
Obama has never been accused of wrongdoing in the case, which involves allegations that Blagojevich tried to peddle his influence in naming someone to fill the U.S. Senate seat vacated by Obama when he became president.
At his first trial, Blagojevich was convicted on one count of lying to investigators, while the jury was unable to reach a verdict on 23 other charges. In the retrial that is scheduled to start on April 20, Blagojevich again faces multiple charges alleging influence peddling and other illegal acts.
Blagojevich's lawyers tried to subpoena Obama to testify at the first trial, but the motion was dismissed.
Asked about the Blagojevich request, White House spokesman Jay Carney had no comment Monday.
Blagojevich, who was impeached by the Illinois House and removed from office by the Illinois Senate in 2009, faces up to five years in prison on his previous conviction.
FOLLOW THIS TOPIC