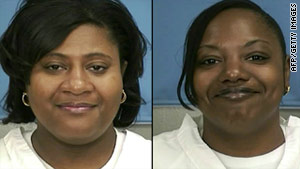 Jamie and Gladys Scott were released from prison in January while serving time for armed robbery.
STORY HIGHLIGHTS
Sisters who spent 16 years in a Mississippi prison were released in January
Governor said one sister must donate a kidney to the other
Gov. Haley Barbour has not issued them a full pardon
Gladys and Jamie Scott have maintained their innocence
(CNN) -- Two sisters released from a Mississippi prison with the stipulation that one donates a kidney to the other said Saturday they will continue fighting for a full pardon.
Gladys Scott told CNN that Gov. Haley Barbour, who ordered the release of the women in January, wants her and sister Jamie to first admit guilt in an 1993 armed robbery that may have netted as little as $11.
"I would not admit that I am guilty. I am innocent," Gladys Scott said. "Me and my sister have proclaimed our innocence since day one. And we are going to keep on."
The sisters both served 16 years of their life imprisonment sentence before being released in January due to Jamie Scott's severe kidney failure. Barbour, upon suspending the armed robbery sentences, said the transplant surgery "should be scheduled with urgency."
Reports this week indicated Barbour will deny another petition for a pardon.
In December, Barbour, who is considering a Republican presidential bid in 2012, said, "The Mississippi Parole Board reviewed the sisters' request for a pardon and recommended that I neither pardon them, nor commute their sentence."
CNN left messages for a Barbour spokeswoman Saturday.

Scott sisters freed in Mississippi

Sisters to be freed for kidney donation
Authorities accused the sisters, who now live in Pensacola, Florida, of leading two men to a group of three teenagers, who hit them with a shotgun and took their wallets. Jamie Scott, who knew the other suspects but denied wrongdoing, said their original attorney told them not to testify at trial because of a paucity of evidence.
The kidney transplant was put on hold in February because Jamie Scott needs to lose 110 pounds before surgery is considered. Gladys must also lose 30 to 40 pounds.
Jamie Scott, who previously thanked Barbour for their release, said Saturday a donation compatibility assessment has been scheduled, but she would not disclose the date.
In Florida, the sisters are under the supervision of the state's Department of Corrections parole office.
Gladys Scott said Saturday she has looked for work, but when she discloses she is a convicted felon "they never call me. I never hear from them no more."
The pair have to report to a probation officer, pay $64 a month, can't vote and must ask for permission to travel, Gladys Scott said. "We are on parole for the rest of our lives," she said.
DNA tests have exonerated people who spent time in prison, Jamie Scott said.
"Everyone in prison don't deserve to be in prison," she said, adding neither sister had a previous criminal record.
According to CNN Jackson affiliate WAPT, the attorney for the Scott sisters sponsored a rally Friday morning outside the governor's mansion and state capitol seeking support for a full pardon.