2 Chicago police officers face sexual assault investigation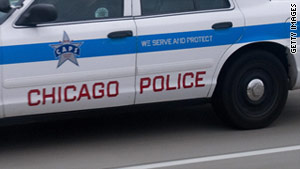 Two Chicago police officers are accused of playing strip poker and sexually assaulting a 22-year-old woman.
STORY HIGHLIGHTS
Chicago police suspend officers pending investigation
Chicago TV station WLS reports officers assaulted a 22-year-old woman
The station cites a police report that states woman initially agreed to sex and strip poker
The woman later ran from her apartment screaming for help, WLS reports
Read more about this story from CNN affiliate WLS.
(CNN) -- Two Chicago police officers are under investigation for alleged sexual assault and have been "relieved of their police powers," according to a statement released Thursday by the city's police department.
Chicago's top law enforcement officer on Thursday called their actions "inappropriate."
"You can't justify it," Chicago Police Superintendent Terry Hillard said Thursday. "What they did, allegedly have done, was inappropriate and was against the law."
Investigators refused to provide further details about the incident. However, CNN affiliate WLS-TV reported Thursday that the alleged attack on a 22-year-old woman took place Wednesday morning after she accepted a ride home from the on-duty officers.
WLS attributed the information to a police report on the incident.
According to the report cited by WLS, the woman initially did not reject sexual advances from the officers. The report stated that the woman had sex with one of the officers in the passenger seat of a department SUV.
The three later played strip poker at her apartment, according to the report cited by WLS. The woman told investigators she was too afraid at first to refuse sex with the officers, but later ran out of the apartment screaming for help, according to the report cited by WLS.
Chicago Police Chief of Detectives Tom Byrne told reporters that neither officer has been charged.
"At this point in time it is an active ongoing criminal investigation, but we also need to have the evidence worked up prior to any charging," Byrne said.
FOLLOW THIS TOPIC