$5 million reward posted in immigration agent's killing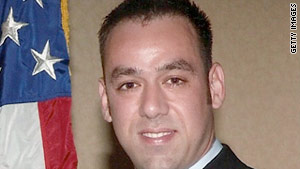 Special Agent Jaime Zapata was shot and killed February 15 while traveling between Mexico City and Monterrey.
STORY HIGHLIGHTS
Immigration agents Jaime Zapata and Victor Avila were ambushed in Mexico
Zapata was killed in the incident; Avila was injured
Mexican authorities have made several arrests
Washington (CNN) -- Federal authorities offered a $5 million reward Wednesday for information in the shooting death of a U.S. immigration agent in Mexico.
Authorities are hunting for suspects in the killing of Special Agent Jaime Zapata, who was ambushed February 15 along with colleague Victor Avila in the north-central Mexican state of San Luis Potosi. The two were traveling to Mexico City in an armored car with diplomatic plates.
They were run off the road and attacked from two vehicles by gunmen who opened fire indiscriminately. Avila was wounded in the incident.
It was the first time in 25 years that a U.S. law enforcement agent was killed while on duty in Mexico.
"This reward reflects the U.S. government's unwavering commitment to ensuring that all those responsible for the murder of Special Agent Zapata are brought to justice," said Homeland Security Secretary Janet Napolitano.
The incident prompted swift action by Mexican authorities and just eight days after the shooting, they announced the arrest of the presumed leader of a group of killers allegedly involved in Zapata's killing, which was apparently carried out by mistake.
Col. Ricardo Trevilla, a spokesman for Mexico's Secretary of National Defense, said Julian Zapata Espinosa, alias "El Piolin," was the leader of the group, which he described as a cell of the Zetas drug cartel.
Trevilla said the killers were "confused by the aspects of the vehicle" in which the Immigration and Customs Enforcement agents were seated.
"They thought it was owned by a rival group," Trevilla said.
Two other men, whom he identified as Jesus Ivan Quesada Pena and Ruben Diario Venegas of Honduras, also participated in the killing, Trevilla said. Also arrested were Armando Alvarez Saldana, Mario Dominguez Realeo or Domingo Diaz Rosas and Martin Barcenas Tapia.
The investigation is ongoing. The FBI has established 24-hour a tip line: (866) 859-9778 in the United States and (800) 225-5324 in Mexico.
The Mexican government said Wednesday it also was offering a reward for information -- 10 million pesos ($839,113).
FOLLOW THIS TOPIC