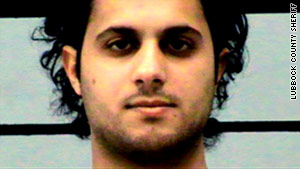 Khalid Ali-M Aldawsari, 20, faces life in prison and a $250,000 fine if convicted.
STORY HIGHLIGHTS
Khalid Ali-M Aldawsari is accused of planning to attack targets in Texas
Authorities say his target list included the home of former President George W. Bush
The 20-year-old faces a trial date of May 2
(CNN) -- A Saudi Arabian man who, authorities say, planned to build an explosive device, and whose list of targets included nuclear power plants and the home of former President George W. Bush, has entered a plea of not guilty to a federal charge of attempted use of a weapon of mass destruction.
Khalid Ali-M Aldawsari appeared at his arraignment on Monday morning in federal court in Lubbock, Texas, before U.S. Magistrate Judge Nancy Koenig. Wearing a navy-blue prison jumpsuit, his hands and legs were shackled.
Koenig also set a trial date of May 2 for the 20-year-old, who faces life in prison and a $250,000 fine if convicted.
A gag order exists in the case, so Aldawsari's attorney, Rod Hobson, could not comment about Monday's arraignment.
At Aldawsari's initial court appearance earlier this eyar, Hobson issued a statement saying his client should be "presumed innocent."
According to the U.S. Justice Department, Aldawsari was in the U.S. legally on a student visa and had studied at an English language center at Vanderbilt University in Tennessee.
According to court records, federal investigators say Aldawsari conducted online research into how to construct an improvised explosive device, or IED, using several chemicals as ingredients. He also "acquired or (has) taken a substantial step toward acquiring most of the ingredients and equipment" needed for the bomb, documents said.
Authorities said Aldawsari described his desire for violent jihad and martyrdom in blog postings and a personal journal.
He conducted research on various targets and e-mailed himself information on these locations and people, the Justice Department said.
On February 6, the affidavit alleges, Aldawsari sent himself an e-mail titled "Tyrant's House" in which he listed Bush's Dallas address, investigators said.
In a personal journal found in Aldawsari's apartment, he wrote the events of September 11, 2001, had produced a "big change" in his thinking and that he had been inspired by the speeches of al Qaeda leader Osama bin Laden, the affidavit said.
He had excelled in high school to take advantage of scholarship opportunities offered by Saudi companies to get to the United States, he wrote, and had been planning to commit a terrorist attack in the United States for years, according to the affidavit.
Aldawsari allegedly wrote the scholarship he received "will help tremendously in providing me with the support I need for Jihad."
The entry continued: "And now, after mastering the English language, learning how to build explosives and continuous planning to target the infidel Americans, it is time for Jihad," the affidavit said.
Aldawsari's alleged plan first came to the attention of authorities on January 30 when shipping company Con-way Freight became suspicious after Aldawsari allegedly called the company and asked it to hold a package for him.
Con-way Freight officials told police it had no relationship with Aldawsari that would have allowed him to use the company as a shipping location, officials said.
Investigators learned the shipment involved the toxic chemical phenol, which can be used in making the explosive trinitrophenol, also known as TNP or picric acid.
Con-way's local management flagged the shipment as suspicious and notified Con-way's corporate security department, triggering the company's Homeland Security escalation plan, according to a company statement.
Frustrated by his inability to obtain the chemicals, Aldawsari canceled the order and later e-mailed himself instructions for producing phenol.
The affidavit alleges that Aldawsari also e-mailed himself instructions on how to convert a cellular phone into a remote detonator and how to prepare a booby-trapped vehicle using items available in most homes.
One e-mail allegedly contained a message stating that "one operation in the land of the infidels is equal to 10 operations against occupying forces in the land of the Muslims."
In another e-mail to himself, titled "NICE TARGETS," he listed two categories of targets: hydroelectric dams and nuclear power plants, the affidavit said.
Other e-mails sent to himself, with the subject line "Targets," contained the names and home addresses of three people who had previously served in the U.S. military at Abu Ghraib prison in Iraq, authorities alleged.
The magistrate ordered that Aldawsari remain jailed without bond.
He has been held since his arrest February 23.
FOLLOW THIS TOPIC