Judge rules Michael Jackson's business manager must testify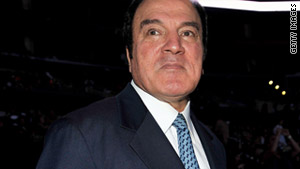 Business manager Tohme Tohme knew about Michael Jackson's finances and drug habits, the defense argues.
STORY HIGHLIGHTS
Tohme Tohme's attorneys say he was not properly served with a subpoena
Dr. Conrad Murray's lawyers call Tohme a critical defense witness
Tohme had "intimate knowledge" of Jackson's finances and drug use, Murray's attorneys say
Testimony in Murray's involuntary manslaughter trial starts May 9
Los Angeles (CNN) -- Michael Jackson's former business manager, Tohme Tohme, must testify in the trial of Dr. Conrad Murray, who is accused in Jackson's death, a judge ruled Monday.
Tohme's attorneys argued their client was not properly served the subpoena, but a process server testified she handed it to Tohme at his home March 3. A used car dealer testified Monday that he was with Tohme at an auto auction at the time.
"I am satisfied there was service in this case," said Los Angeles Superior Court Judge Michael Pastor after hearing both witnesses.
Pastor was more concerned about the argument that Tohme's testimony would be irrelevant to the Murray case.
Paul Takakjian, Tohme's attorney, said the defense was "tossing out a fishing line" without any knowledge that Tohme knew anything that would help their case.
Murray's attorneys argued that Tohme is a critical witness for their defense strategy to prove that Jackson gave himself the fatal dose of anesthesia that led to his June 25, 2009, death.
Tohme had "intimate knowledge of his finances, drug use, his habits" in his final months, defense lawyer Nareg Gourjian said.
Jackson's "financial difficulties at the time is clearly relevant to our assertion that Mr. Jackson self-administered himself with propofol," Gourjian said.
While the defense argument "seems to be a lot of speculation," Pastor said he would let the subpoena of Tohme stand since he was Jackson's business manager at the time of his death. He indicated he would later consider whether to limit the subjects on which Tohme can be questioned.
The defense indicated it wanted to question Tohme about the pressure placed on Jackson in his final months to prepare for the 50 shows he was to perform in London for AEG Live starting that July.
"He (Tohme) negotiated the AEG deal and other witnesses say Mr. Jackson was very angry about this," Gourjian said.
Tohme will not cooperate with the defense by giving them an interview ahead of his testimony, he said.
The court will consider a similar motion next week by Dr. Arnold Klein.
The defense contends the Beverly Hills dermatologist gave Jackson drugs that Murray did not know about in the weeks before his death.
The Los Angeles County coroner ruled Jackson's cause of death was "acute propofol intoxication" in combination with "the contributory affects of the benzodiazepines."
The court will hold a third day of jury selection next week to build up a pool of "hardship qualified" potential jurors -- those whose families, finances and jobs could withstand a two-month trial. The final jury selection process is set for May 4, with opening statements scheduled for May 9.
FOLLOW THIS TOPIC