11 bus drivers arrested in NY crackdown on phony licenses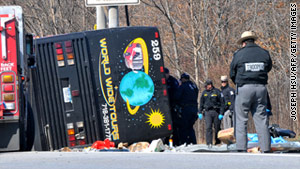 A tour bus flipped over in New York on March 12, killing 15 people.
STORY HIGHLIGHTS
State DMV, police find false statements by bus drivers
Probe comes after accident that killed 15
New York (CNN) -- Police arrested 11 bus drivers around the New York area suspected of using phony aliases to get fraudulent driver licenses, officials said.
The crackdown comes on the heels of a horrific bus accident that left 15 passengers dead.
Authorities suspended the license of bus driver Ophadell Williams -- who has not been charged with a crime -- after police say his driver's license application was found to contain false statements.
A joint investigation by the New York Department of Motor Vehicles and police uncovered similar incidents.
"New York will use every tool at its disposal ... to end fraudulent practices in obtaining driver licenses," New York Gov. Andrew Cuomo said Friday. "People should have confidence in the system, and my administration will continue to crack down on potentially dangerous drivers and buses."
Among those arrested were Metropolitan Transportation Authority employees and commercial drivers, the statement said.
All 11 drivers are charged with falsifying business records and offering a false instrument for filing.
"This investigation is ongoing and our investigators will continue to identify and arrest all those who have submitted false identities," said DMV Executive Deputy Commissioner J. David Sampson.
The Transportation Authority has suspended the suspects' driving privileges pending the outcome of criminal hearings.
"We are working with the DMV and law enforcement, and are grateful they have the technology in place to detect this willful evasion of the extensive background checks performed on all MTA employees," said authority chairman Jay H. Walder.
Last week, two survivors of the March 12 bus accident filed multimillion-dollar lawsuits against the bus company and driver Williams.
Yuke Chue Lo and Erold Jean Marie are both suing World Wide Tours and driver Williams for $20 million and $200 million, respectively.
Both passengers' court papers allege negligence on the part of the bus operating company for allowing Williams behind the wheel. They also allege that Williams was speeding and fell asleep while driving.
Williams' lawyer, Sean H. Rooney, denied that his client had fallen asleep.