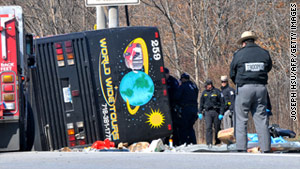 STORY HIGHLIGHTS
Two survivors of a bus accident that left 15 passengers dead have filed lawsuits
The lawsuits are directed against the bus company and the man who was driving
An investigation of the crash is ongoing
The bus driver's attorney called his client an "easy target"
New York (CNN) -- Two survivors of a horrific Bronx bus accident that left 15 passengers dead have filed multi-million dollar lawsuits against the bus company and the man who was driving.
Yuke Chue Lo and Erold Jean Marie are both suing World Wide Tours and driver Ophadell Williams for $20 million and $200 million, respectively. Both suits were filed on Tuesday in New York State Supreme Court.
Both passengers' court papers allege negligence on the part of the bus operating company for allowing Williams behind the wheel, with that resulting in the deadly crash on March 12. They also allege that Williams was speeding and fell asleep while driving.
"These transportation companies need to take greater care and concern for the people they're transporting and the people on the road and stop hiring poorly trained drivers," said Lo's lawyer, Andrew Finkelstein. "Crashes like this should never happen."
Lo, 74, underwent several surgeries, and suffered a fractured skull and traumatic brain injuries, Finkelstein said. She was released from the hospital earlier this week and must undergo extensive rehabilitation.
Marie, a 53-year-old doorman, is dealing with both shoulder and spinal injuries, according to his lawyer, Herb Subin. "He is extremely traumatized by the carnage that he witnessed," Subin added.
The crash occurred in the early morning hours after the bus left the Mohegan Sun Resort and Casino in Uncasville, Connecticut, en route to Chinatown in Manhattan.
Police said Williams told investigators that the incident occurred after he swerved to avoid a tractor-trailer that might have clipped the bus. The bus then flipped on its side and smashed into a pole, which cut through more than two-thirds of the vehicle.
An investigation of the crash is ongoing, according to both National Transportation Safety Board and State Police.
Williams has not been charged with a crime, but his license was suspended on March 17 after the Department of Motor Vehicles turned over to investigators driver license applications that allegedly contained false statements.
Williams' lawyer, Sean H. Rooney, denied that his client had fallen asleep behind the wheel. He also said Williams does not drink, smoke or use drugs and had passed three breathalyzer tests and given a blood sample following the crash.
Rooney called his client an "easy target," but insisted that he is "a decent person."
Williams' criminal record includes a manslaughter conviction for fatally stabbing a man about 20 years ago, according to New York Department of Correctional Services spokeswoman Linda Foglia. He was later convicted of grand larceny.
"People can be very unforgiving about past errors, but [Williams] pulled himself back up," Rooney said. "He rehabilitated himself, made a good life for himself, and didn't look back."
Williams, who had been working for World Wide Tours for about eight months, drove a busload of people to the Connecticut casino five nights a week, said Rooney. Most nights -- including March 12 -- he napped on the bus and ate a meal while waiting for passengers to return.
"He was doing his normal, daily routine," Rooney said. "It's a tragic accident," he added. "But it's just that -- an accident."
World Wide Tours did not return calls for comment.