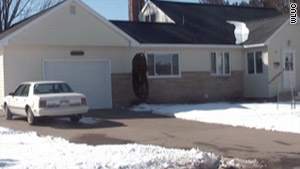 Search warrents were issued at a residence in Kingsford, Michigan, WLUC-TV reports.
STORY HIGHLIGHTS
Gary John Mikulich charged with attempting to blow up Detroit federal building
Package was found in February and reported to police last week
FBI, IRS have offices in federal building
Check out the report at CNN affiliate WLUC-TV in Marquette, Michigan.
(CNN) -- A man was arrested for allegedly placing a suspected improvised explosive device outside a federal building in downtown Detroit, according to a district court complaint filed in Michigan.
The complaint, filed by FBI Special Agent Mark Davidson, said Gary John Mikulich placed a tool bag containing the device outside the McNamara Federal Building on February 26. Mikulich is charged with one count of maliciously attempting to destroy United States property by means of an explosive.
Mikulich has not entered a plea, and it is not known whether he has an attorney.
Mikulich has a history with police, filing frequent complaints against an FBI "card system," claiming that it is responsible for the murder of his father and thousands of other people, according to a news release from U.S. Attorney Barbara McQuade.
According to the complaint, the FBI tracked the sale of the tool bag and timer used in the device to a Home Depot in Iron Mountain, Michigan, where surveillance footage revealed Mikulich making the purchase and driving away in a white Oldsmobile later found to be registered to him.
Although it was found February 26, the package was left unattended for weeks in a Detroit federal building, resulting in the suspension of the building security guard who found it, according to an official with knowledge of the case.
The guard placed it in a lost-and-found room before reporting it to police last week, according to David Wright, president of the American Federation of Government Employees Local 918, which represents the Federal Protective Service workers.
"For some unknown reason, the ... private guard picked up the package and decided to X-ray it, and when they saw something that looked out of place, that's when they contacted the FPS," Wright said. "He did not follow protocol."
The building houses offices of the FBI, the Internal Revenue Service and other federal agencies.
Wright called the mishap a "contracting mess," complaining that the use of private contractors impedes the security guard command structure.
"I cannot order one of these kinds of guards to do anything," he said.
The company in charge of the guards was not immediately available for comment.
The package was taken from the building, which was not evacuated, and detonated at Detroit's Belle Island, police spokesman Samuel Balogun said.
The package's contents were not immediately clear.
An FBI Terrorism Task Force is leading the investigation in collaboration with the Department of Homeland Security and Detroit police.
Mikulich is expected in federal court Friday morning in Marquette, Michigan. He faces up to 20 years in prison, a $250,000 fine or both.
FOLLOW THIS TOPIC