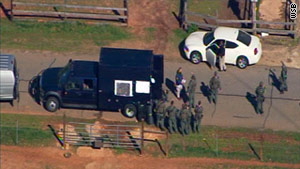 STORY HIGHLIGHTS
Police in Athens, Georgia, conduct a search after receiving tip
Authorities believe suspect Jamie Donnell Hood is still in the area
One police officer was killed and another wounded Tuesday afternoon
(CNN) -- Officers searching for a suspect in the slaying of a police officer received a tip Thursday and swarmed a neighborhood in northeastern Athens, Georgia.
The tip did not pan out and teams later pulled out of the area, said Maj. Mike Shockley, of Athens-Clarke County Police. No arrests were made.
CNN Atlanta affiliate WSB showed footage of officers surrounding a home.
Some 20 federal, state and local agencies are searching for Jamie Donnell Hood, 33
A murder arrant was issued after Tuesday's slaying of Senior Police Officer Elmer "Buddy" Christian, 34, and the wounding of Senior Police Officer Tony Howard, 43.
"As of now, through investigative means, we believe he is still in this area," Shockley said of Hood. "We are still in the process of checking that out."
Shockley said Christian's death hit the department hard.
"Right now we're just concentrating on our jobs. Because of the way this has turned out and the suspect is still at large, our focus is getting the job done," Shockley said. "There were some people that were closer to him than others, and there are some individuals that are very upset, so we've called in for some counselors."
The reward leading to Hood's arrest grew Wednesday to $50,000.
Athens is home to the University of Georgia, which is about three miles east of the shooting scene.
Christian was the first Athens officer to be shot and killed since 1936, officials said.
The incident began early afternoon Tuesday on the east side of the city when a vehicle was carjacked, said Hilda Sorrow, public information assistant with the police department. Hood, who was believed to be involved, was later seen as a passenger in another vehicle, a red SUV, she said.
When Howard stopped that SUV near Sycamore Drive and Atlanta Highway, the man believed to be Hood got out and began shooting, police said. As the gunman ran off, he came across Christian's patrol car, Sorrow said, and fired into the vehicle.
On foot, the gunman eventually reached a highway and carjacked a Chevrolet Prizm, police said. It was found abandoned, Sorrow said.
According to police, Hood is 5 feet, 8 inches tall and weighs about 175 pounds. He has several tattoos, including "Robert/Dad" on his right arm and "Mom/Azale" and a heart on his left arm. He was last seen wearing a white shirt with a yellow design and blue jean shorts.
U.S. Attorney General Eric Holder on Tuesday announced a Law Enforcement Safety Initiative, calling the number of law enforcement officers killed in the United States so far this year "simply unacceptable."
According to data compiled by the National Law Enforcement Officers Memorial Fund, 24 officers had been shot to death through Thursday, compared with 17 for the same period last year
CNN's Carol Cratty contributed to this report.