D.C. elementary school students back in class after cocaine incident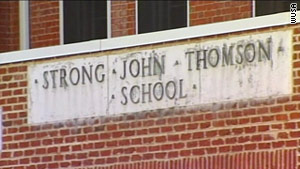 STORY HIGHLIGHTS
Four elementary school students were given cocaine by a classmate, officials say
The students ingested or inhaled the cocaine
They were taken to a hospital as a precaution, but all returned to school on Monday
The classmate was charged with possession of a controlled substance
Washington (CNN) -- Four elementary students who were given cocaine by one of their classmates last week were back in school on Monday according to District of Columbia Public Schools spokeswoman Safiya Simmons.
Each of the four children had either ingested cocaine orally or inhaled the substance after their classmate allegedly brought an undetermined amount to Thomson Elementary School. The students were evaluated by the school nurse and taken to the hospital as a precaution.
The child accused of bringing the illegal substance to school was not back at Thomson Elementary on Monday. He was charged with possession of a controlled substance last week.
A source familiar with the case said the boy who allegedly brought the cocaine to school is 10 years old.
School officials did not release information about the ages or grade levels of the students involved, nor did they release further details about the incident itself.
Monday was the first day back in the classroom for the students since the incident occurred Thursday. District of Columbia public schools were closed Friday for a previously scheduled professional development day for teachers.
Eleven clinicians, psychologists and social workers visited classrooms at Thomson Elementary Monday encouraging students who wanted to talk about last week's incident to do so according to Simmons.
Thomson Elementary School Principal Albert Dupont sent a letter to parents last week asking them to stress to their children: "NEVER to take something or put something in their mouth when they are not sure what it is."
CNN's Carol Cratty contributed to this report.