Woman charged in Texas day care fire is headed back to the U.S.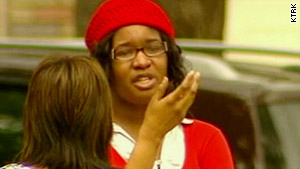 Four children died in a fire in a Houston day care center operated by Jessica Tata.
STORY HIGHLIGHTS
Jessica Tata is among the U.S. Marshals' "most wanted"
Authorities say she fled after leaving 7 kids in her day care, where a fire began, killing 4
Tata is expected to arrive in Houston within 24 hours, a U.S. congresswoman says
(CNN) -- A Texas woman who allegedly fled to Nigeria after authorities say four children died in a fire at her day care facility is on her way back to the United States, a U.S. congresswoman said Sunday.
Jessica Tata was charged after she left a group of children alone inside a home with the stove on, officials have said. Four children died and three others were injured in the February blaze.
"I am glad she decided to make the right decision, which is to return to this country of which she is a citizen in order to face the charges against her," U.S. Rep. Sheila Jackson Lee said in a statement.
Lee, D-Texas, said Tata left on a flight from Lagos, Nigeria, at about 5:30 p.m. ET and is expected to arrive in Houston within the next 24 hours.
"Hopefully, the return of Ms. Tata will begin to bring the right kind of closure, even as these families continue to mourn their loss, most likely throughout their lives," she said.
The U.S. Marshals Service declined to comment on Tata's status Sunday. Earlier this month, the agency added Tata to its "15 Most Wanted" fugitive list.
Tata allegedly left the seven children unsupervised in the home day-care facility and drove off in her car in February, authorities have said.
The blaze likely originated on an electric stove, which was on and had a pot on it containing oil, according to Houston Fire Department arson investigator Thomas Wood.
A definitive cause for the fire will be announced once the investigation is complete.
FOLLOW THIS TOPIC