STORY HIGHLIGHTS
Motivational coach James Arthur Ray is on trial, accused of reckless manslaughter
Three people died after a sweat lodge ritual led by Ray on October 8, 2009
Participants are describing a sweat lodge ordeal that capped a five-day seminar
Ray's defense says authorities focused on Ray, didn't fully explore other possibilities
Camp Verde, Arizona (CNN) -- James Arthur Ray's spiritual warriors journeyed to the foot of the mystical red cliffs of Sedona, Arizona, to find enlightenment. They were willing to shave their heads, meditate in the desert for 36 hours without food and water, then symbolically die and be reborn in a sweat lodge ritual.
They were seekers, not flakes. Doctors, engineers, salespeople, small-business owners -- professionals who paid $10,000 to break down personal barriers they believed kept them from achieving all they could.
But how hard participants in Ray's motivational seminars pushed themselves -- and how intensely Ray pushed his acolytes -- is one of the central questions being examined here in Yavapai County as his trial on manslaughter charges unfolds.
Prosecutors say three spiritual warriors died from the heat after 2½ hours in a sweat lodge on October 8, 2009. Nineteen others collapsed, vomited, had trouble breathing, hallucinated, foamed at the mouth or fell unconscious.
Some of the 55 people who followed Ray into the sweat lodge are now reliving the experience at his criminal trial at a remote desert courthouse far from the magic of Sedona. There are no New Age crystal shops or aura readers here. Roaring lions can be heard from a neighboring safari park.
Native Americans: Trial shows exploitation of our traditions
Ray, a 53-year-old preacher's son, best-selling author and self-help coach, is accused of recklessly causing the deaths of Kirby Brown, 38, of Westtown, New York; Lizbeth Neuman, 49, of Prior Lake, Minnesota; and James Shore, 40, of Milwaukee. If convicted of three counts of reckless manslaughter, he could go to prison for more than 30 years.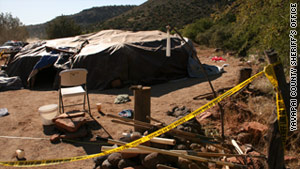 Self-help author James Arthur Ray is accused in connection with three deaths at an Arizona sweat lodge he ran.
Ray's Los Angeles legal team says that what happened was an accident, not a crime. The defense suggests the participants were poisoned, either by pesticides in the dirt or by rat poison that came into contact with the tarps covering the sweat lodge. They say authorities minimized these possible causes and instead focused immediately on building a case against Ray, the California-based New Age outsider.
Lead prosecutor Sheila Polk has indicated the trial will unfold in three stages: testimony from the participants, followed by medical experts, and finally police investigators. The trial opened on March 1 and could last four to six months.
So far, seven witnesses have offered a detailed timeline of the seminar's events, along with gripping descriptions of a sweat lodge ceremony gone terribly wrong. They've talked about what drove them to become spiritual warriors, and what they expected to achieve. And they've described the extremes some people will endure in the name of enlightenment.
They've also offered a glimpse of the last conscious moments of the victims -- Brown, Neuman and Shore.
Inside the lodge, Brown, a free-spirited painter and avid surfer who spent most of her time in Los Cabos, Mexico, drew her knees to her chest and rocked back and forth, chanting, "We can do it," according to testimony.
Neuman, a divorced mother of three who worked as a database administrator, quietly hunkered down until she slipped into unconsciousness. Fellow participants believe she was determined to finish the sweat lodge ceremony because she felt ashamed after Ray chastised her for being with a group of experienced volunteers who shared snacks and a bottle of wine.
"Choosing to go in the sweat lodge, I believe she had something to prove to James Ray," said Jennifer Haley, a volunteer from California who was a member of what Ray called the Dream Team. "I believe that her feeling shameful absolutely had everything to do with her dying in that sweat lodge."
It was a lot hotter than I expected. It was very uncomfortable pretty quickly for me.
--Laura Tucker, sweat lodge participant
Shore, a father of three who worked for an internet marketing company, carried one stricken woman out of the lodge, and returned. He was found unconscious next to Brown. He was holding her hand as if he were comforting her, according to testimony.
Witnesses said Canadian real estate agent Dennis Mehravar emerged from the sweat lodge vomiting and screaming, "My heart, my heart! I don't want to die!" He testified that he passed out. When he regained consciousness, he asked a volunteer if he was dead and was told, "No, you're back." Mehravar testified that Ray later told him he had been reborn.
Lou Caci, a long time friend of Ray, became so disoriented that he staggered into the pit of hot stones, burning his arm and letting out "a bloodcurdling scream," according to testimony. After he was hosed down and cooled off, Ray encouraged Caci to return to the sweat lodge, saying that he would carry a permanent reminder of his experience, according to testimony.
Ray already has settled the civil claims against him, paying an undisclosed amount of money, according to his website.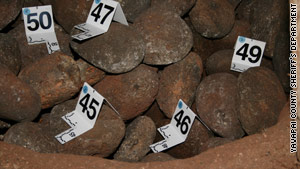 Ray said the stones were symbolic of earthly ancestors, and called them "grandfathers."
He was riding high as he planned the 2009 Spiritual Warrior session, which was held at the 70-acre Angel Valley Retreat. His book, "Harmonic Wealth: The Secret of Attracting the Life You Want," made the New York Times best-seller list the previous year, and it was getting him noticed. He appeared on "The Oprah Winfrey Show," "Larry King Live" and "The Today Show."
His seminars offered an eclectic mix of New Age spirituality, corporate team building exercises and Native American rituals. As he told participants before the sweat lodge ceremony: "I might even chant in Hebrew."
Ray and the people he coached believed that achieving altered states of consciousness led to "breakthroughs," according to testimony. Drugs and alcohol were not permitted inside their "sacred space." Instead, Ray exhorted participants to "play full on" in exercises that involved role-playing, sleep deprivation, lectures, journal writing, fasting and physical challenges.
"If you choose to play full on, you are going to have one of the most intense altered states you've ever had in your entire life," he told the four dozen participants and seven experienced Dream Team volunteers, according to tapes played in court.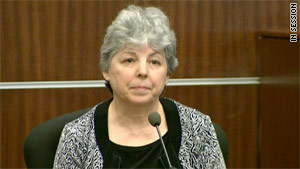 "I wanted to have experiences, enlightenment," explained Melissa Phillips, who was the first witness to testify.
The five-day seminar began with lectures, viewing the film "The Last Samurai," goal-setting and quiet time for reflection and journal-keeping. On the first day, participants were asked to shave their heads, or at least crop their hair short, in a symbolic gesture that they were letting go of their vanity. It was optional, and by the end of the week, 41 participants had cut their hair.
Texas orthodontist Beverly Bunn was the last to lose her hair. She said she held out until right before the sweat lodge ceremony, despite Ray's prodding with comments such as: "Are you hiding behind your hair?" or "What does that have to do with your identity?"
They also were to adhere to a strict vegetarian diet, according to testimony.
The activities became increasingly taxing. On the third day, a code of silence was imposed. At a "Samurai Game," Ray wore white and literally played God, ordering his black-robed "death angels" to strike dead anyone who spoke or disobeyed his instructions. Participants who "died" had to lie still on the cold floor, sometimes for hours, and did not get dinner, according to testimony.
At 11 p.m., participants were told to gather up their sleeping bags and were led into the desert on a "Vision Quest," according to testimony. They were instructed to build a Native-American medicine circle and meditate inside it for 36 hours without food or water. When it was over, participants were told to drink plenty of water for the final challenge, the sweat lodge.
When you face your own death, life's never the same. It's just not.
--James Arthur Ray, briefing participants before sweat lodge
The sweat lodge exercise was based on a Native American purification ritual "as old as time itself," as Ray told them in a recorded pep talk before the ceremony. Built of willow sticks and tarps, the lodge was 5 feet high and 23 feet across, with a pit in the middle.
It was pitch-black inside, with participants huddled together shoulder to shoulder. Stones heated to an orange glow -- 55 in all -- were added to the pit for each 15-minute round. Ray said the stones were symbolic of earthly ancestors, and called them "grandfathers."
Participants greeted the "grandfathers" at the beginning of each round and Ray poured water on the stones, creating clouds of steam.
"I remember the heat, it came all at once," said Laura Tucker, a Canadian who was seated by Neuman. "It radiated from the stones. It was a lot hotter than I expected. It was very uncomfortable pretty quickly for me."
She said Neuman told her to lie close to the ground, where it was cooler. Tucker took shallow breaths and kept herself together, she testified.
People really began to suffer by the fourth round, according to testimony. Bunn said she tried to leave, but Ray encouraged her to stay, saying, "Beverly, especially you are stronger than this, and you know you can endure this, you can get over this. Mind over matter."
"It was really, really hot" by the sixth round, Bunn said. "Round six is when everything kind of went pretty crazy. And everybody in the tent, in the sweat lodge, was yelling at some point in time."
Ray told them to be quiet and the final two rounds continued in relative silence.
Tucker and Neuman had worked out a tapping system to check on each other. Neuman's taps stopped between the fifth and sixth rounds and she slumped back against Tucker's shins. Tucker said she grew concerned and asked Ray to check her, but he responded, "Liz has done this before. She knows what she's doing."
Tucker said she focused on her own survival as she grew weaker and more disoriented. When the exercise was over, she crawled out of the tent believing that someone else was tending to Neuman.
The exercise ended after eight rounds. Participants were hosed down and given water; about half emerged woozy but otherwise fine, according to testimony. But as the tent emptied, people realized that several others were still lying in the dirt inside, unconscious.
Shore and Brown were foaming at the mouth and turning purple. Tucker said she had no training but performed CPR on Brown for about 45 minutes. Someone else was working on Shore, who was lying next to Brown.
"Some man came and supported her neck and I could see the purple go up from her abdomen to her hair," Tucker said. "In the middle, I thought we had her back. There was a slight smile and it never changed. Her eyes were open the whole time." I said, 'Look, James Shore has got a little smile too.'"
You learned during the course of the week that you didn't question Mr. Ray.
--Beverly Bunn, sweat lodge participant
Ray had warned that the sweat lodge would be intense, but assured his spiritual warriors that they would survive and the experience would forever change them. He taped the lectures and prosecutors are playing excerpts to the jury, attempting to use Ray's own words against him:
"There's no lodge like my lodge," he said. "By the second or third round, I'm thinking why the hell am I me? Why couldn't I just do a weenie-ass lodge like everyone else? And the reason is, when you emerge you will be a different person. When you face your own death, life's never the same. It's just not."
The Spiritual Warrior seminar was to be the final leg of a self-empowerment journey that included programs such as Harmonic Wealth, Quantum Leap, Creating Absolute Wealth, and Modern Magic, according to testimony. It was the last stop on the way to achieving Ray's five pillars of success: Financial, Relational, Intellectual, Physical, and Spiritual.
"I wanted to have experiences, enlightenment," explained Melissa Phillips, a participant from Toronto, who was the first witness to testify. "I was expecting to walk away with more confidence, with a great learning experience."
Tucker had a similar goal: "My personal development was important to me," she said. "I wanted to complete the series. There were no other courses beyond that."
Jennifer Haley, a Dream Team member, also wanted to learn how to overcome obstacles but since has grown disillusioned. She said she saw Ray's "intimidating" side for the first time when he scolded the Dream Team members for bringing wine onto the property.
"He was strong with the people. They were too intimidated, they were too committed to him," Haley said. "The Dream Team members being scolded, I could tell that their focus was on making James Ray happy."
The testimony is raising difficult questions about leaders, followers and personal responsibility. Why, on the path to enlightenment, did so many people seem to yield power to Ray?
"You learned during the course of the week that you didn't question Mr. Ray," Bunn told the jury. "You know what the rules are, nothing is optional. You don't question them or there are consequences, being called out in front of the group."
"He was the leader and we had to follow what he said," Phillips explained. "He was the person I entrusted myself to, and wanted to learn from. I felt he had a reason. I respected him highly. I didn't want to disappoint him, the Dream Team or myself."
Dr. Nell Wagoner, a gynecologist from Juneau, Alaska, said she did not realize people were in distress until the sweat lodge ceremony ended.
"There was no reason not to trust Mr. Ray," she said. "When I had a doubt, he proved I was wrong. I had no reason to doubt anything."
Tucker said the sweat lodge changed her, but not in the way she'd hoped. She still thinks often about Lizbeth Neuman's final conscious moments.
"It's going to be a lifetime wrapping my head around it."
In Session's Beth Karas, Michael Christian and Daniel Lewis contributed to this story.
FOLLOW THIS TOPIC