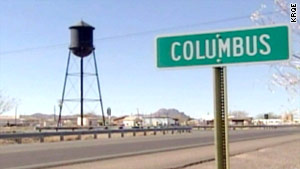 Columbus, New Mexico, is a town of about 2,000 people near the border with Mexico.
STORY HIGHLIGHTS
Feds crack down on an alleged gun-trafficking ring seeking to sell firearms in Mexico
The ring illegally bought guns that are favored by the Mexican drug cartels
The mayor, police chief and a village trustee of Columbus, New Mexico, are charged
(CNN) -- The mayor, police chief and a village trustee in the New Mexico border town of Columbus have been charged along with eight other defendants with buying firearms for illegal export to Mexico, federal authorities said Thursday.
An 84-count indictment accuses the 11 of being what authorities describe as a gun-trafficking ring. The ring bought guns "favored by the Mexican cartels," such as American tactical 9 mm pistols and the so-called "AK-47 pistols," which are weapons resembling AK-47 rifles but with shorter barrels and without rear stocks, U.S. Attorney Kenneth J. Gonzales of New Mexico told CNN.
In a phone interview, Gonzales said authorities seized 200 such firearms, allegedly purchased illegally using "straw" buyers, and intended for sale in Mexico. He added that 1,500 rounds of ammunition were also seized.
Authorities say much of the Mexican drug cartel violence is carried out with weapons originating from the United States.The indictment alleges that 12 firearms previously purchased by the defendants were found in Mexico and were traced back to them, authorities said.
"I couldn't tell you for sure that the firearms would ultimately be put in the hands of people who were going to hurt other people, but because we believe the firearms were destined for Mexico, we feel we made a big difference today," Gonzales told CNN.
Arrested Thursday were Columbus Police Chief Angelo Vega, 40; Mayor Eddie Espinoza, 51; and village trustee Blas Gutierrez, 30, said Gonzales, who added the town's population was about 2,000 people.
As of late Thursday, no attorneys had entered appearances for any defendants, who all were in the custody of the U.S. Marshal, said spokeswoman Elizabeth Martinez of the U.S. Attorney's office in New Mexico.
They and seven other defendants were arrested by federal and local authorities Thursday, and all but one of them were arrested in Columbus, Gonzales said. The 11th defendant, Ignacio Vallalobos, 24, of Columbus, remained a fugitive and is facing two counts of firearms smuggling and a conspiracy charge, authorities said.
"Presumably these folks are engaging in this activity because there is money to be made," Gonzales said. "We're very disappointed that we have among these 11 people three people in government positions -- a police chief sworn to protect the public and a mayor sworn to lead and provide for the public safety and a village trustee that has that duty as well."
Authorities also conducted searches at eight residences, a business and even the Columbus Police Department, authorities said.
"That was part of the tragedy here -- we're actually having to search a police department," Gonzales said. He didn't know what was seized from there Thursday.
Because the small town of Columbus has only a four-member police force, including the chief, Luna County Sheriff Raymond Cobos told CNN Thursday that his deputies were now providing police patrols.
But the sheriff has told Columbus officials that their police department could no longer use the same radio frequency as the county, to ensure the integrity of local law enforcement.
Sheriff Cobos said the remaining three members of the village board were now running the town, and he was in negotiations with them to take over police protection.
"It's right across the border from Puerto Palomas (Mexico) and they have a history of street violence down there that include daylight assassinations, kidnappings, shootings and one of the last incidents down there was finding three heads in a gazebo in the town plaza," Cobos said.
When asked about how the federal raid left the small town without several top officials, the sheriff said: "I haven't seen anything like this before. Whatever comes up, we take care of it the best way we can. We're meeting with other state officials to see what we can come up with" regarding public safety in Columbus.
Between January 2010 and March 2011, the defendants allegedly bought about 200 firearms from Chaparral Guns in Chaparral, New Mexico, which is owned and operated by Ian Garland, 50, who was also arrested and is facing several charges, authorities said.
The defendants allegedly claimed they were the actual purchasers of the firearms, when in fact they were acting as "straw purchasers" who were buying the firearms on behalf of others, authorities said.
The indictment came after a year-long federal investigation and was part of the Organized Crime Drug Enforcement Task Force, a program targeting the most serious drug trafficking, weapons trafficking and money laundering organizations, and those responsible for the nation's illegal drug supply, authorities said.
During the investigation, law officers also seized 40 AK-47-type pistols, 1,580 rounds of 7.62 ammunition, and 30 high-capacity magazines from the defendants before they crossed the U.S.-Mexico border, authorities said.
No weapons were knowingly permitted to cross the border, authorities said.
"Identifying and arresting individuals involved in criminal activities, especially weapons and drug trafficking, in our homeland is a national security priority for ICE," Manuel Oyola-Torres, special agent in charge of Immigration and Customs Enforcement in El Paso, Texas, said in a statement.
All 11 defendants are charged with one count each of conspiracy to smuggle firearms from the United States to Mexico. If convicted of this charge, each defendant could receive a sentence of five years of imprisonment and a $250,000 fine, authorities said.
Some of the defendants also are charged with making false statements in connection with the acquisition of firearms. Conviction carries a maximum penalty of five years imprisonment and a $250,000 fine, authorities said.
Some of them are charged with unlawfully concealing and facilitating the transportation of firearms knowing that the firearms were intended for exportation from the United States, authorities said. The maximum penalty for that offense is 10 years of imprisonment and a $250,000 fine, authorities said.
FOLLOW THIS TOPIC