Security breach prompts 2½-hour evacuation of Florida courthouse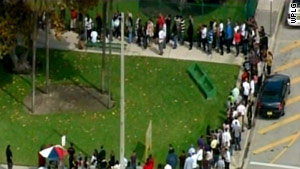 A Florida courthouse is evacuated after a security screener spots something resembling a gun inside a bag.
STORY HIGHLIGHTS
NEW: All-clear is given, and people have returned to the courthouse
Miami-Dade County courthouse was evacuated as building was searched
Screener saw what was thought to be a gun in a bag at a security checkpoint
Owner of the bag somehow slipped through security
(CNN) -- People were allowed back into a Miami-Dade County courthouse that had been evacuated Thursday morning because of a security breach, police said.
The building was evacuated for about 2½ hours as police searched for the owner of a bag holding what was thought to be a gun.
Police said a security screener spotted something resembling a gun inside a bag or purse while it was going through security, and that somehow the owner of the bag evaded courthouse security and entered the building before any further inspection of the bag could take place.
It is possible that the person was authorized to have a firearm, and Detective Robert Williams of the Miami-Dade Police Department cautioned that "we don't know if it was a real weapon or not."
"No subject has been found; no firearm has been found," Williams said after the all-clear was given. "Maybe the subject ran out the other side of the building. We don't know."
FOLLOW THIS TOPIC