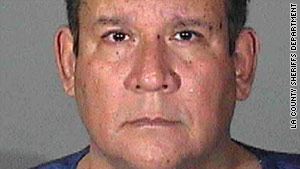 Former Council Member Luis Artiga has resigned but his name remains on the ballot.
STORY HIGHLIGHTS
The city of Bell, California, is a small city with an outsized scandal
Prosecutors allege eight former city officials misspent millions of dollars
Voters recall four council members
Meanwhile, a judge orders four of the former officials to stand trial
Los Angeles (CNN) -- Voters in scandal-ridden Bell, California, voted resoundingly to recall four controversial council members, according to election results reported Thursday.
More than 95% of voters said yes Wednesday to removing each of the four council members from office, according to the announced results.
One of the four, Luis Artiga, had already resigned but his name remained on the ballot. The other three ejected from the council were Oscar Hernandez, George Mirabal and Teresa Jacobo.
The tiny community of Bell, located about 10 miles southeast of downtown Los Angeles, became nationally watched for a public corruption scandal as prosecutors accused a total of eight city officials of misappropriating millions of dollars in city funds.
Four of those eight now-former officials were ordered on Thursday to stand trial in Los Angeles County Superior Court on corruption charges, prosecutors said. They join the other four, who were ordered last month to stand trial.
The so-called Bell Eight includes six former council members, the former city administrator and his former assistant.
For each of the four ousted council members, more than 2,800 voters cast yes ballots to recall them, according to election results. Those disagreeing with the recall numbered only between 115 and 138 voters for each council member.
Bell voters also elected four replacements.
Two of the newly recalled Bell City Council members -- Artiga, 50, and Hernandez, 62 -- were among the four ordered Thursday to stand trial, according to the Los Angeles County District Attorney's Office. The other two were former city administrator Robert Adrian Rizzo, 57, and former assistant city manager Pier Angela Spaccia, 52, prosecutors said in a written statement.
A new charging document, or felony information, will be filed on an undetermined date by prosecutors, they said.
The defendants are scheduled to be arraigned on March 24, prosecutors said.
The four defendants are collectively charged with misusing $6.7 million in city funds. Of that amount, Rizzo is charged with misappropriating more than $3 million for unauthorized and excessive pay, prosecutors said.
Spaccia faces four counts of misappropriation of public funds, including more than $1.4 million in excessive and unauthorized compensation, prosecutors said.
Judge Hall said evidence indicates that the defendants were "engaged in a massive, ongoing conspiracy to enrich themselves," according to the statement from the district attorney's office.
It said Rizzo faces 54 counts, including misappropriation of public funds, conflict of interest and falsification of public records. He also allegedly disbursed money to more than 40 city employees, including himself and his co-defendants, through an illegal loan program.
Rizzo and Spaccia are also accused of writing their own employment contracts and falsifying public documents to hide their true compensation, prosecutors said.
Artiga faces two counts of misappropriation of public funds, and Hernandez faces one count of misappropriation of public funds for allegedly receiving illegal personal loans, prosecutors said.
On February 16, Hall ordered Artiga, Hernandez and four other former council members -- Jacobo, 53; Mirabal, 61; George Wendell Cole Jr., 61; and Victor Antonio Bello, 52 -- to stand trial on related charges, prosecutors said.
Next week, another preliminary hearing is scheduled for Rizzo in a related case in which he is charged with one count each of conflict of interest and misappropriation of public funds, prosecutors said.
CNN's Sonya Hamasaki contributed to this report.