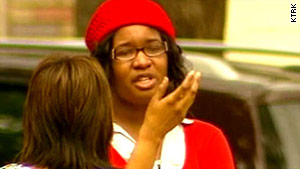 Jessica Tata, 22, is wanted in connection with a fire that killed four children in the Houston day care she owned.
STORY HIGHLIGHTS
The U.S. Marshals add Jessica Tata, 22, to its "15 Most Wanted" fugitive list
Authorities say she fled after leaving 7 kids in her day care, where a fire began
Investigators tried twice to talk to her before she fled, possibly to Nigeria
The Houston fire chief has said authorities "made a mistake" in trusting Tata
(CNN) -- A Houston day care owner is among the U.S. Marshals Service's "most wanted," more than a week after authorities say she carelessly started a fire that killed four children and then fled.
The federal agency on Friday added Jessica Tata to its "15 Most Wanted" fugitive list, cautioning the public that she should be considered "armed and dangerous."
Houston fire department investigators twice tried to talk to the 22-year-old Tata on February 25, the day after the blaze in which seven children were trapped inside the home day care, according to a press release Friday from the U.S. Marshals. She initially refused and then, later that day, referred all questions to her lawyer -- the last known contact between her and law enforcement.
A U.S. Marshals task force later discovered that Tata flew to Georgia on Sunday, and officials have said they believe she may have gone on to Nigeria.
She subsequently was charged with six counts of reckless injury to a child, three counts of abandoning a child under 15 and four counts of manslaughter -- one apiece for the four children's deaths. Another three children were injured, but survived.
In addition, the U.S. Marshals release notes that Tata is also wanted for "unlawful flight to avoid prosecution."
Houston Fire Chief Terry Garrison said Wednesday that the department trusted the day care center operator after she told authorities she would talk about the fatal fire.
He told reporters that investigators initially believed Tata, who was upset at the fire scene, was a victim. She did not say much at the scene or the hospital.
"What she told us was not truthful," said Garrison, adding that investigators did not learn that until later. Tata said she was in the center's bathroom, the chief said. Witnesses contradicted that account, according to an arrest affidavit.

Dad: 'I knew the worst had happened'

Day care operator may have fled country
Tata left the seven children unsupervised in the home day-care facility and drove off in her car, according to the affidavit.
The blaze likely originated on an electric stove, which was on and had a pot on it containing oil, according to Houston Fire Department arson investigator Thomas Wood. A definitive cause for the fire will be announced once the investigation is complete.
Neighbors John Chestnut and Geoffrey Deshano told investigators that they heard Tata screaming soon after she pulled into her driveway and went to the front door, the arrest affidavit said. No other adults or day care employees were at the facility, the men said.
The two told reporters that Tata's car was full of groceries when she returned to the house, adding that they called 911 and tried to help get the children out as smoke seeped from the building.
Investigators said they did not believe Tata to be a flight risk.
"Somewhere along the way, we may have made a mistake," Garrison said. "We're going to learn from our mistake. We're not going to blame anybody. We're not going to make excuses."
FOLLOW THIS TOPIC