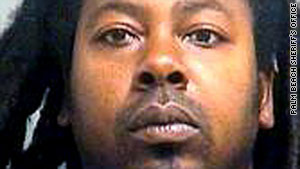 Clem Beauchamp, the suspect in the death of two children, was taken into federal custody on unrelated charges.
STORY HIGHLIGHTS
NEW: The girl victim's father is "devastated," says "I shouldn't have let her stay there"
Police believe the mother of two slain children was herself found dead last summer
The two dead children have been identified as brother and sister, ages 6 and 10
The suspect in the kids' deaths is in federal custody on unrelated charges, police say
(CNN) -- About seven months before two children were found stuffed dead inside luggage and floating in a south Florida canal, the body of a woman police believe was their mother was discovered in a landfill, a Delray Beach police spokeswoman said Friday.
Felicia Brown was never reported missing, Sgt. Nicole Guerriero said, but authorities began looking for her after the bodies of two youths believed to be her children were found Wednesday. On Friday, the spokeswoman said that Delray Beach police think that authorities found her body in August in a West Palm Beach landfill.
That city's police spokesman, Chase Scott, said only that authorities there are trying to determine if that body is related to the two dead children, and Guerriero conceded that the medical examiner has yet to definitively identify that body. Still, she said that law enforcement in Delray Beach are confident about her identity.
"Due to several identifying marks, to include tattoos, we believe that the female found in West Palm Beach is indeed Felicia Brown," Guerriero said.
The medical examiner used dental records to conclude that the 10-year-old boy found Wednesday is Brown's son, Jermaine McNeil. A definitive determination was not immediately reached on the girl's identity, but Guerriero said police believe she is 6-year-old Ju'tyra Allen based on her physical characteristics and "the circumstances surrounding how the children were found."
Brown's sister, Margaret Gissome, told reporters Friday that she hadn't spoken with Felicia since their mother's funeral in 2007 -- saying "she kind of ... disappeared." While the sister said she had believed a cousin may have spoken with her most recently, several people said they last saw Felicia Brown over the summer.
"I never knew my sister was missing. I never knew my niece or nephew were missing," Gissome said. "There's a lot of questions that are going on."
Earlier Friday, the investigation took an unexpected turn when Delray Beach police announced that federal law enforcement officers had detained their only suspect in the investigation into the children's deaths -- a man identified by authorities as Clem Beauchamp, Felicia Brown's ex-boyfriend.
He was arrested on a federal firearms charge dating back to 2009, according to CNN affiliate WPBF.
Investigators are continuing to search a house where the suspect had lived. Guerriero said it is not clear if the two children ever lived there, but investigators have found evidence that minors have resided there.
Police earlier said the children's deaths appear to be "domestic-related."
The two children did not show up at school Tuesday, Guerriero said. They were found Wednesday about six hours and a half-mile apart in the canal that separates Delray Beach from Boca Raton, according to police.
The girl's body was found first, after a passerby alerted police to a duffel bag floating about midway across the canal; the boy's body turned up in a suitcase closer in as investigators combed the banks for evidence, according to police.
That same day, Beauchamp came into the Delray Beach police department voluntarily to talk with investigators, and he wound up in federal custody. He has not been charged yet in relation to the children's deaths.
CNN's attempts to contact Beauchamp for comment were not successful.
Three other children who lived in the same home as Brown and Beauchamp are now safe and in the custody of the Florida Department of Children and Families, according to Guerriero.
Ju'tyra Allen's father, Curtis Allen, told WPBF on Friday that Felicia Brown moved in with Beauchamp sometime after he'd broken up with her.
"I'm just devastated," Curtis Allen said of his daughter's death. "I feel like I should have been there. I'm just beating myself up about it. I shouldn't have let her stay there. I should have done more."