Doctor accused of giving drugs that led to deaths of 6 men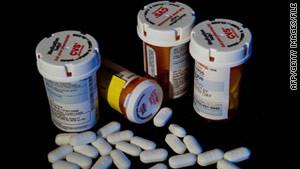 Prosecutors allege Dr. Joseph Zolot and Lisa Pliner issued prescription drugs to make money, not for medical purposes.
STORY HIGHLIGHTS
Dr. Joseph Zolot and his nurse Lisa Pliner appeared Thursday in federal court
They are accused of conspiring to distribute drugs that led to 6 patients' deaths
Prosecutors say they gave prescriptions to make money, not medical purposes
Zolot's attorney contends that his client "at all times ... acted in good faith"
(CNN) -- A Massachusetts doctor and his nurse face charges that they conspired to distribute controlled substances, a practice that authorities claimed led to the deaths of six patients, according to a criminal indictment released Thursday.
Dr. Joseph Zolot and Lisa Pliner -- both of whom practiced in Needham, about 15 miles southwest of Boston -- appeared in a federal court Thursday. They will be charged with one count of conspiracy to distribute methadone, oxycodone and fentanyl, as well as seven counts for the distribution of controlled substances.
Dennis Dillon, Jeffrey Campbell, Thomas Dunphy, James Curley, Christopher Bartoloni and Scot Poulack died between February 2004 and September 2006 after overdosing on methadone prescriptions they received from Zolot and Pliner. The men ranged in age from 26 to 49 at the times of their deaths, according to Zolot and Pliner's indictment.
Many of the prescriptions were given despite indications that the patients were abusing, misusing or illegally distributing drugs, the indictment alleges. Prosecutors further contend that the distribution of the drugs led to the addiction, deteriorated health, overdoses and -- ultimately -- deaths of the men.
Zolot and Pliner issued the prescriptions to make money, rather than for legitimate medical purposes, the indictment claims.
Individuals were billed $300 for their initial visits to the nonsurgical orthopedic clinic, and $100-$150 for subsequent visits, the court document states. Patients visited the offices at least once every month to receive prescriptions.
Approximately 40 to 50 people a day would frequent Zolot's office four days a week, according to the indictment. Zolot and Pliner did not adequately give physical examinations during those visits, which tended to be very brief, according to the court document.
Zolot's attorney David Meier maintains that his client is innocent. He said that the doctor has been aware for years that these charges may be forthcoming, and looks forward to defending himself in court.
"At all times, Dr. Zolot acted in good faith as a practicing physician," Meier said. "His intent was to do good as a doctor, it was never his intent to cause harm, never mind death."
Zolot voluntarily surrendered his medical license in 2008 following a preliminary FBI investigation into his medical practice that began the previous year, his attorney said.
CNN's Megan Miller contributed to this report.
FOLLOW THIS TOPIC