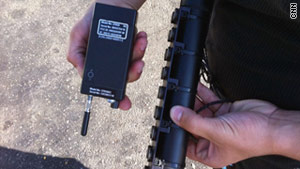 Yasir Afifi, 20, says he discovered the tracking device when he took his car to a mechanic for an oil change.
STORY HIGHLIGHTS
Young Muslim to sue after finding tracking device
FBI reputedly demanded the unit back
Lawsuit seeks court ruling on warrantless surveillance
Lawsuit accuses FBI of illegally tracking Muslim-American
Washington (CNN) -- A young Muslim-American says he plans to sue the FBI and the U.S. Justice Department after finding a tracking device planted underneath his car.
Yasir Afifi, 20, accompanied by lawyers from the Council on American-Islamic Relations, told reporters at Wednesday that the lawsuit will seek compensation, an injunction, and a broader ruling against law enforcement's placing of tracking devices without a warrant.
CAIR Executive Director Nihad Awad said "spying on U.S. citizens without a warrant and without justification is un-American, unconstitutional, and should be rejected by all Americans concerned with civil liberties."
The group said it filed the suit Wednesday morning on behalf of Afifi, but the document had not been officially entered in the court system by late afternoon. The suit, which would be processed at U.S. District Court in Washington, names U.S. Attorney General Eric Holder and FBI Director Robert Mueller, along with "unknown agents" involved in the alleged surveillance.
"We bring this lawsuit here today to once and for all seek a court order declaring that any use of tracking devices by any law enforcement agent, anywhere in the United States, is a violation of the Fourth Amendment, and is unconstitutional," said CAIR attorney Gadeir Abbas.
The incident began last October, Afifi said, when "I noticed a glimmering device under my car while I was getting my oil changed." Afifi, a college student who lives in San Jose, California, said his mechanic could not immediately identify the device, but removed it and handed it to Afifi who took it home, took pictures and posted the mystery online.
He says he soon found out it was a wireless tracking device using satellite GPS technology that could transmit his whereabouts to those who apparently were monitoring. "Everybody told me, from the ACLU (American Civil Liberties Union) to random people on the internet," Afifi said.
He also tracked down the model number and learned the unit is only sold to law enforcement agencies. As word spread from his online posting, the lawsuit's demand for compensation reflects damages Afifi says are the result of his now being unable to find a job.
When reporters asked whether there was anything in his background that might draw the interest of authorities, he said "I'm sure I've done nothing wrong to provoke anybody's interest."
Afifi is an American citizen by birth, but suggested his Muslim faith and family ties to Egypt may have made him a target. "I travel a lot overseas, I'm on the phone overseas with my brothers all the time, so I'm sure that fits their profile pretty well."
The FBI declined to comment on Afifi's allegations, but spokesman Michael Kortan said the agency complies with "guidelines that determine what investigative steps or techniques are appropriate."
Afifi said he's convinced FBI agents came after him when he pulled wires disconnecting the device from its battery pack. In the lawsuit, copies of which were provided at the news conference, CAIR attorneys said "unknown agents, using three unmarked vehicles, detained Mr. Afifi in front of his home in a bizarre mission to retrieve the device."
Afifi said he considered re-installing the device beneath a police car, and now wishes he instead had given it over to an attorney.
CAIR has posted a copy of the lawsuit on the group's website: www.cair.com.
FOLLOW THIS TOPIC