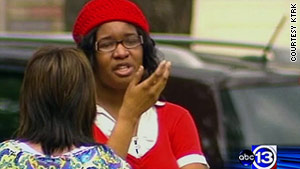 Day care center operator Jessica Tata, 22, may have fled to Nigeria after the fatal fire at her facility, officials say.
STORY HIGHLIGHTS
A woman facing charges in Houston fire allegedly fled the country
She operated a day care center where four children died in fire
Houston fire officials say they believed woman wouldn't flee and would talk with them
Check out local reports on CNN affiliates KTRK-TV and KPRC-TV in Houston.
(CNN) -- Houston's fire chief said Wednesday the department trusted a day care center operator who allegedly told authorities she would talk about a fatal fire but instead fled the area.
Jessica Tata, 22, faces charges after she left a group of children alone inside a home with the stove on, authorities said. Four children died and three others were injured in the February 24 blaze.
Officials say they believe Tata may have flown to Nigeria. The suspected fugitive left on a flight from Dallas on Saturday, a day before an arrest warrant was issued.
Fire Chief Terry Garrison told reporters that investigators initially believed Tata, who was upset at the fire scene, was a victim. She did not say much at the scene or the hospital.
"What she told us was not truthful," said Garrison, adding that investigators did not learn that until later. Tata said she was in the center's bathroom, the chief said. Witnesses said she was away at the time.
According to CNN affiliate KTRK-TV in Houston, the Harris County district attorney's office had said it could not file charges until it determined Tata left the children alone. By then, Tata was gone.
Tata was charged Monday with one count of reckless injury to a child. Nine new charges were filed against her Tuesday, according to CNN affiliate KPRC-TV. U.S. marshals said they were preparing to file federal charges of unlawful flight to avoid prosecution.
After the fire, Tata and her attorney told investigators she would speak with them in detail about the incident, Garrison said.
"She was deceitful and left before we could talk with her."
Investigators said they did not believe Tata to be a flight risk.
"Somewhere along the way we may have made a mistake," Garrison said. "We're going to learn from our mistake. We're not going to blame anybody. We're not going to make excuses."
The chief said he is committed to assisting the families of the victims.
Tata had been licensed since March 1, 2010, with state authorities to run the residential day care center, Texas Department of Family and Protective Services spokeswoman Gwen Carter said. The facility was cited once for not having a fire extinguisher or carbon monoxide detector before she got her permit, according to Carter, but the problem was fixed.
An arrest affidavit said that Tata "unlawfully and recklessly" caused "serious bodily injury" to at least one of the victims Thursday after she left that child and six others unsupervised in the home day-care facility and drove off in her car.
The blaze likely originated on an electric stove, which was on and had a pot on it containing oil, according to Houston Fire Department arson investigator Thomas Wood. A definitive cause for the fire will be announced once the investigation is complete.
Neighbors John Chestnut and Geoffrey Deshano told investigators that they heard Tata screaming soon after she pulled into her driveway and went to the front door, the arrest affidavit said. No other adults or day care employees were at the facility, the men said.
The two told reporters that Tata's car was full of groceries when she returned to the house, adding that they called 911 and tried to help get the children out as smoke seeped from the building.
FOLLOW THIS TOPIC