Keith Richards' daughter faces drug, graffiti charges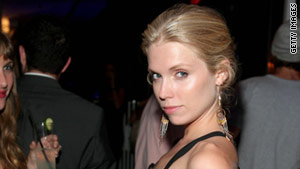 Police say Theodora Richards, 25, used a paint marker to write "T (heart) A" on a building.
STORY HIGHLIGHTS
The daughter of Keith Richards is arrested for scrawling graffiti and drug possession
Theodora Richards was found carrying marijuana while writing with a paint marker
New York (CNN) -- The daughter of Rolling Stones guitarist Keith Richards was arrested after allegedly scrawling graffiti on a building in a Manhattan neighborhood Tuesday night, according to police.
Theodora Richards, 25, was also slapped with drug charges after police found her carrying marijuana while writing "T (heart) A" with a paint marker in the city's Soho district, said a New York Police Department spokeswoman who declined to be named.
Richards, who has modeled for brands like Burberry and French Connection, was charged with two counts of making graffiti, possession of a graffiti-making instrument, criminal possession of a controlled substance and unlawful possession of marijuana.
Richards is the daughter of model Patti Hansen and the Rolling Stones icon who gained international fame not only for his music, but also for years of drug use and multiple scrapes with the law.