Police: Father stabs baby to death; deputies kill dad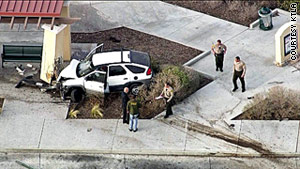 The suspect's vehicle crashes into a building Tuesday in Palmdale, California, with deputies in pursuit.
STORY HIGHLIGHTS
Authorities shoot, kill 17-year-old father after he broke into a home
Deputies saw teen stabbing child as they pursued the suspect, police say
Relatives of the teen say they don't know why tragedy happened
Los Angeles (CNN) -- A California teenager kidnapped his 5-month-old baby and fatally stabbed the child as pursuing deputies watched before police shot and killed the teen, authorities said.
CNN affiliates KABC-TV and KTLA-TV in Los Angeles identified the teenager as Christopher Earl Glass and his son as Christopher Earl Glass Jr.
Deputies from the Los Angeles County Sheriff's Department responded about 11 a.m. Tuesday to a reported child abduction in Palmdale, about 60 miles north of Los Angeles, the department said. "They were told that a 17-year-old suspect had kidnapped his 5-month-old baby son from a person who was taking care of the baby and drove away," police said in a statement.
After an investigation was launched, police learned the teen had called the baby's mother and threatened to harm the child, the statement said. An Amber Alert was issued for the baby.
At about 3:35 p.m., deputies saw the suspect driving and began following him, the department said.
While in pursuit, "they observed some kind of stabbing motion inside the vehicle," sheriff's spokeswoman Nicole Nishida told reporters. The deputies pursued the vehicle, attempting to get it to stop.
After about two or three minutes, the vehicle crashed into a building, authorities said. The teen got out of the car and ran, and deputies chased him on foot. Other deputies went to the car, got the baby, "and raced him to the hospital in their radio car," the sheriff's statement said. "Unfortunately, the baby was pronounced dead at the hospital."
Meanwhile, the suspect broke into a home at random as authorities fired at him in an attempt to get him to stop, police said. "The suspect was able to break into the home, with deputies chasing after him. A second deputy-involved shooting occurred inside the home." The teen was killed, police said. No deputies were injured.
Relatives told KABC that Glass, who lived with his mother, was a good father to the baby and they don't know why the incident occurred. Cousin Bobby Hudson described him as "a great person," adding, "I hate to see this happen."
CNN's Ashley Hayes contributed to this report.
FOLLOW THIS TOPIC