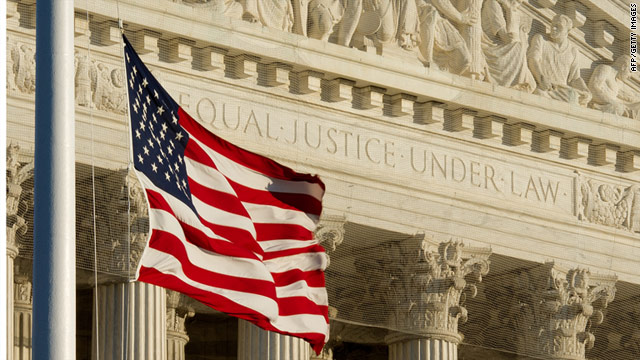 STORY HIGHLIGHTS
High court a bit perplexed in oral arguments
Attorney for one side in the case says they are no longer interested in arguing it
"It takes two to tango," Justice Antonin Scalia says
Washington (CNN) -- When a majority of the Supreme Court wonders at oral argument what one of the attorneys is doing there -- and, indeed, what they are doing there -- you know someone's in trouble.
The justices expressed confusion and frustration Tuesday during oral arguments over key procedural questions, and whether they should tackle the larger, emotionally divisive dispute before them: When can children be interviewed about sex abuse allegations without a warrant and without parents present?
"Why are you here?" asked Chief Justice John Roberts of the lawyer for the family that sued local officials. The family did not want to argue key questions in the case, and Roberts wondered, "Why didn't you just go away?"
A federal appeals court ruled last year in favor of an Oregon mother after concerns were raised about the well-being of her two daughters. That court said an in-school interrogation of one of the daughters, age 9, involving a sheriff's deputy and a social worker was unconstitutional, since there was no prior warrant or parental permission. But in a confusing turn, those judges said the county employees could not be held personally liable for any damages.
The deputy and the social worker have now asked the high court to consider the constitutional question.
The sticking point was that lawyers for the mother apparently are no longer challenging the immunity question. Such a "gateway" issue typically must be addressed in court before the more substantive constitutional questions of search and seizure are dealt with.
"It takes two to tango, and a case or controversy requires somebody on the other side who cares a fig about the outcome," said Justice Antonin Scalia "The young woman affected in the case has moved to another state, making it virtually certain that she'll never confront this situation again. She doesn't care what the result of this thing is."
The Constitution's Fourth Amendment protects against "unreasonable searches and seizures," including police or official interrogations. One of the questions presented in this case was whether children deserve the same protections as adults in such settings.
States had strongly urged the court to resolve the issue, saying many social services departments fear being sued either when they seek to intervene on a child's behalf or when they fail to do so. The high court last heard a case about the child welfare and protection system in 1990.
In 2007, states investigated 3.2 million reports of child abuse or neglect, according to the federal Administration for Children and Families.
Tuesday's case involves a Eugene, Oregon, man accused in 2003 of sexually touching a 7-year-old boy and of acting inappropriately around his own two young daughters.
A deputy sheriff and a state social caseworker interrogated one of the his daughters -- identified as S.G. -- in a private office at her school for one to two hours without a warrant, without establishing "probable cause" and without the parents' approval. The girl is now 17. Neither she or her family appeared at the high court for arguments.
After the interview, the state secured a court order to remove the girls from the mother's custody and to have doctors conduct sexual abuse examinations outside the mother's presence.
The mother sued, claiming violations of her due process rights as a parent.
Child welfare experts ultimately could not determine whether the two girls had been sexually abused, and the local juvenile court, at the request of social services officials, ordered the children returned to their mother's custody on March 31, 2003. Charges against the man concerning his daughter eventually were dismissed.
The mother's lawsuit on behalf of herself and her daughters has not gone to trial because of the continuing appeal on the constitutional issue.
At Tuesday's arguments, Oregon Attorney General John Kroger said state investigations involving children are especially sensitive. "The child abuse context is somewhat unique in that there are very few ways to investigate properly child abuse without speaking to the only witness that's typically available in the case, and that is the child."
Arguing for the family, lawyer Carolyn Kubitschek offered seemingly conflicting answers on when it is proper for officials to question children without parents present. She suggested the one-hour-plus interrogation of S.G. was inappropriate but a shorter interview might have been all right.
"You're asking us to adopt a rule for the future that says if it's very brief, it's OK, but if it's longer it isn't OK?" Scalia asked.
"If it were very brief and the child was not removed from her classroom," Kubitschek replied. But seconds later she said a court order would be needed to do that.
"So you're changing your position: You need a court order, no matter how brief. Is that it?" asked Scalia, clearly perplexed.
Justice Sonia Sotomayor pressed further, disputing Kubitschek's assertion that absent a warrant or a parent present, only an urgent, "exigent" circumstance would allow police to even initiate the private questioning of a child.
Armed with mere unsubstantiated allegations, "They don't know if there's exigent circumstances until they ask the question" of whether their was any sexual abuse, Sotomayor said.
When the lawyer conceded social workers or a school nurse could properly do the questioning but not police, Ruth Bader Ginsburg jumped in.
"If the information elicited from the child is that she has been abused by her father, then there is a likelihood that there will be police interest in that."
Sotomayor seemed to sum up the legal dilemma: "It's hard to swallow that if a police officer asks a child 'Are you being abused' and the child says 'Yes, I need help,' it is nearly impossible to think that seizure is unreasonable. But it may well be that two hours (of questioning) for a protesting child would be. But isn't that all subject to a question of reasonableness as to the scope of the seizure?"
She and most of her colleagues appeared eager to offer some binding guidance.
But Kubitschek struggled even more when she repeatedly told the high court the entire appeal was moot, since her clients are satisfied with a "moral victory" from the earlier ruling that the interrogation of S.G. was improper. She said the separate liability question on which they lost is now unimportant to the family.
"Our client has no legally binding, legally cognizable interest in the case," Kubitschek said. "She has an interest in protecting her moral victory."
That left Justice Samuel Alito incredulous, suggesting the family wanted to have it both ways.
"You want to have the Fourth Amendment decision preserved and have it govern an enormous chunk of the country so that all the states (would) have to comply with it, and an individual officer who doesn't comply with it would do so on pain of personal liability, but you don't want that ground-breaking decision to be subject to review by this court on the merits. Is that a summary of what you want? Does that make any sense?"
"You want them (the states) to be bound, and yet you say that the case is moot. I just don't understand it," added Justice Anthony Kennedy.
Twenty-seven states had separately urged the high court to intervene in this case to resolve the liability question and other issues raised.
The justices are now left to sort out what has become a legal muddle. They could simply vacate the entire case and order the lower courts to rehear it, since many of the issues seem not to be fully settled. Or they could try to resolve either the immunity issue or the Fourth Amendment issue, or both.
The Supreme Court will get a separate chance to offer clarity when it hears a case later this month involving a 13-year-old North Carolina boy questioned in school over a burglary accusation without being given Miranda warnings.
The consolidated cases heard Tuesday are Camreta v. Greene (09-1454) and Alford v. Greene (09-1478). A ruling is expected by early summer.